Enjoy an evening with us!
Our Teachers Night is an after-hours event that will allow teachers to come and explore everything we have to offer before booking an excursion with us for 2023. The night will showcase all the workshops we have here at LEGOLAND Discovery Centre, it will allow teachers to ask questions and interact with our recourses.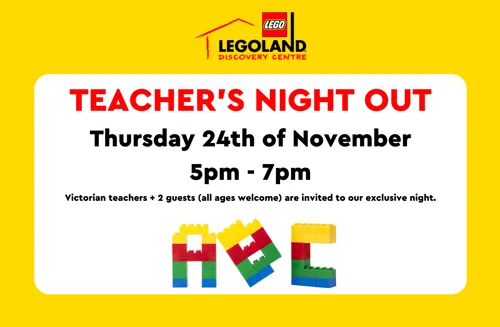 Teachers are encouraged to bring TWO guests along to join in on the fun, all ages are welcome!
The onsite cafe will be running to offer food and beverages during the event. We are a cashless attraction.
Showbags filled with resources for teachers will be handed out on the night, this is one per teacher and will summarise everything we have to offer.
LEGOLAND Discovery Centre, Chadstone Shopping Centre, Melbourne.
Reach out via Merlin Teachers Club Facebook or via our email melbourne@legolanddiscoverycentre.com.au for any enquiries.

REGISTER NOW!