Kids Birthday Parties
The most LEGOtastic kids birthday party venue in Melbourne! 
PLEASE NOTE:
Like everyone, we love celebrating Birthdays! However for the time being, LEGOLAND® Discovery Centre Melbourne is not offering Birthday Party packages and are currently not taking any bookings. We do invite you however to still have your birthday party at LEGOLAND.  Here are some helpful tips for planning and hosting your own party at LEGOLAND Discovery Centre!
The adult to child ratio necessary for admissions is 1 adult for every 5 children and the adults must stay in the attraction with the children at all times during the session
If you would like to make a booking, you can pre-purchase your tickets to guarantee your entry here
Please make sure your party arrives at the start of the session time
Remind your guests to bring socks for the soft play areas
We do not allow outside food or cake to be brought into the attraction or stored in our facilities.  If you would like to order LEGO themed cupcakes, you can send us an email with the quantity desired and pay for them at our café on the day.  Please note that orders need to be placed minimum of 10 days in advance.  We have children's sandwiches and other foods available for purchase at our café as well!
Please bring an electronic candle as we are unable to have open flames or smoke in the attraction, which can set off fire alarm systems  
We are unable to reserve tables in peak times (typically but not limited to school holidays, weekends 10am-2pm)
We have lockers for hire or cubbies to place birthday gifts, however we would recommend these are best stored in your car prior to visiting LEGOLAND. We cannot store your items ourselves and are not liable for your presents and other personal items.  
If you let us know it is a special Birthday upon your arrival the team will get the birthday girl or boy a special gift from us!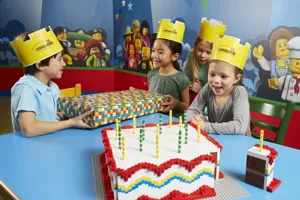 Premium Birthday Package
$875
Entry for up to 20 people (children or adults)

Please note: This package is currently not available and we are not taking any bookings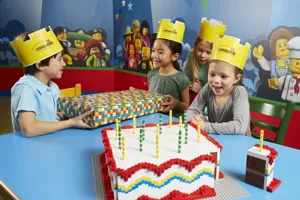 Ultimate Birthday Package
$1750
Entry for up to 40 people (children or adults)
Please note: This package is currently not available and we are not taking any bookings
WHATS INCLUDED
Private room hire for 3 hours
Free play time in the common areas of the attraction, with access to rides (height restrictions apply), the 4D Cinema and play zones
A dedicated party host to help with the party from start to finish (2 for the Ultimate package)
Party food
Unlimited cordial and water
A gift for the birthday child
Birthday crowns for all guests
Downloadable party e-vites
Please note:
A minimum of 1 adult per 5-6 children is required for supervision whilst in the attraction
Priority access isn't included and wait times may vary
More Information
Bookings must be made a minimum of two weeks in advance
All children MUST bring socks if they wish to play in the LEGO City Soft Play Zone
20/40 people is our maximum that we can safely fit inside the party rooms. If any extra people attend the party, they will be required to purchase individual tickets as a member of the general public. Your party host may ask adults to leave the room during games and food if there is not enough space for the children.
After your party has finished, your party host(s) will escort your party to the balcony outside of the centre for pick up, no re-entry will be possible.
Food Inclusions:
A choice of one of the following hot options: 
Mini Hot dogs
Sausage Rolls & Party Pies
Spinach & Feta Rolls (vegetarian option)
Party Pizzas
Mini Pumpkin Sausage Rolls (No Egg, Dairy, Gluten, Soy)
And also receive:
Fairy bread
Fruit platter
Popcorn
Unlimited cordial and water
Please take note of the below when determining how many adults will accompany the party:
LEGOLAND Discovery Centre is designed to be enjoyed by families together! For this reason, we require active supervision by adults in the party. The Party Host will not be responsible for supervising the children when in the centre or accompanying them on rides.
Our Kingdom Quest ride requires 1 adult to escort up to 4 children per ride. Children are not permitted on Kingdom Quest without an accompanying adult.
Our Merlin's apprentice ride has a minimum height requirement of 90cm. Children between 90cm to 120cm tall will need to be accompanied by an adult to ride (ratio 1:1).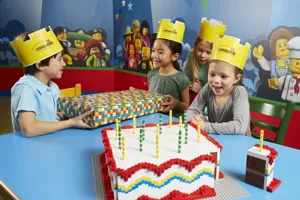 Need More Information?
Parties are run on Saturdays and Sundays during the school term. Times available are either 10am until 1pm, or 1.30pm until 4.30pm.
Need Assistance?
Melbourne@LEGOLANDDiscoveryCentre.com.au
FAQs
We highly recommend that you do not invite more people than included in your package. Our party rooms have a strict maximum number of people for safety reasons, but also to ensure that everyone has enough space to sit, eat, and play games. If any additional guests arrive, adults of the party may be asked to wait outside of the room. Reserved tables outside of your room are not able to be provided. Any additional guests will need to have a regular entry ticket purchased for them prior to entry. Once all party wristbands have been allocated, our admissions staff are not able to grant entry without a valid ticket.
As we are located within Chadstone Shopping Centre, parents are able to experience and visit a number of stores, cafes and restaurants.
Yes, general admission for an under 3 years of age is free of charge. However, they will be counted in the maximum number of people allowed in the room, and adults may be asked to leave the room if there is not
enough space during food or games. The amount of food will stay the same regardless of any free infants attending. If you think you will require extra food, you are welcome to purchase platters from our café menu.
The Birthday Party meeting area is located on the balcony by the Surfer Girl. The Party host will be responsible for escorting children into the attraction. Parents can pick up their children after the party has finished by waiting on the balcony for the group to come out of the attraction. Any latecomers or early picks up will need to be arranged with the admissions staff, who will escort the children if a hosting parent is not present. Parents without a wristband are unable to enter to pick up or drop off their children.
Chadstone Shopping Centre's policy includes no helium allowed in the centre. If you wish to bring oxygen-filled balloons they must be taken with you as you leave the party room. The policy also includes no fire allowed in the centre, so no candles or sparklers are allowed. We do however have electronic candles that your party helper will bring out when you sing happy birthday. The party host will use a remote to switch of the candles when your child 'blows them out'! The party room is already decorated with a LEGO circus theme, so no decorations that stick to the walls or make a mess (confetti/glitter) are allowed. You're welcome to bring your own tabletop decoration or plates/cups if you'd like.
Yes, if notified at least seven days before your party and you have booked one of our private room party packages. Please note that we are unable to store your cake in a fridge or freezer due to risk of contamination with allergens. We will provide all utensils for your cake, and your party helper will assist with cutting and serving.
Unfortunately, we are unable to offer a tab system. We require all payment up front for any food/drinks or extra admissions tickets.
As we offer set packages, we have no minimum number of guests. If you'd like to have a smaller party, you are still required to purchase one of our 20/40 person packages and the full amount of food will be provided.
To privately book our party rooms you are required to purchase one of our set packages. Please note that only parties booked in our private room are allowed to bring their own cake into the centre, and no other outside food is allowed. If you'd like to have a cake celebration, we recommend heading to one of the Chadstone food courts before or after your visit to LEGOLAND Discovery Centre.