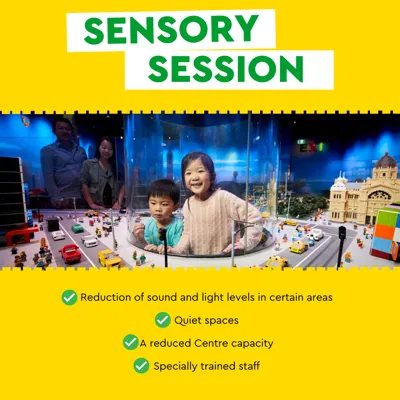 Low Sensory Mornings
LEGOLAND Discovery Centre is holding a sensory-friendly LEGO experience Sunday 2 April from 8:30am-9:30am. 
Special accommodations include the below:
Reduction of sound and light levels in certain areas
Quiet spaces
A reduced Centre capacity
Specially trained staff
This event is open to sensory-sensitive and special needs children and adults.
Can't make this session? Book tickets for our next sensory-friendly morning. Dates below:
Sunday 18 June 8:30am-9:30am
Sunday 10 September 8:30am-9:30am
Sunday 3 December 8:30am-9:30am
Please Note: Attraction will open to General Public at 9:30am with lights, sounds and music returning to normal. Adults visiting without children must leave at 9:30am.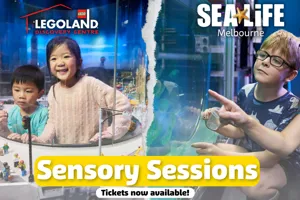 Join Us at SEALIFE Melbourne Aquarium
SEALIFE Melbourne Aquarium is holding a sensory-friendly experience Saturday 1 April from 8:30am-9:30am. 
Book Now
additional information
Terms & Conditions:
*Carers with a valid Companion Card can book a free ticket online but will be required to show card at admissions to grant entry

*Children under 2 can enter for free (when accompanied by an adult)

*Annual Passholders must book a ticket via the button above. 
*Due to our Adult Policy, all Sensory Session Mornings guests who are not accompanied by a child age 17 or younger must exit when the private event ends and the attraction re-opens to the public