Lockdown Fun!
Master Model Builder Design Camp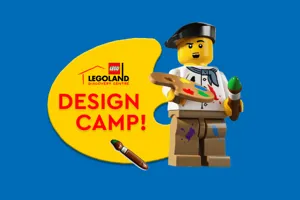 Get ready designers!
Now that you have your film directing skills patted down, we have another challenge for you! The new Master Model Builder Design Camp will teach kids everything they need to know about planning, designing and building a unique LEGO® creation from scratch!
Enjoy daily videos from Kieran – including a live stream on Tuesday at 4pm from Monday 7 June to Friday 11 June. New content will be added everyday! 
MONDAY
Kieran will show you how to sketch out your dream build! 
TUESDAY
Master Class live stream from 4PM on our Facebook Page
Ask Kieran any questions you may have
Tour of Kieran's Master Model Builder's Workshop
Wednesday
Introduction to Design Programs
Kieran will give you a little insight on how he designs his LEGO models using computer aided design tools! 
Download Bricklink Studio here
Please note: LEGOLAND Discovery Centre is not endorsed or sponsored by Bricklink Studio and is not affiliated with the webpage.
THURSDAY
Sourcing bricks to build your awesome build!
Check out the LEGO Range here
FRIDAY
Get useful building tips and other awesome LEGO knowledge from Kieran!