LEGOLAND® Discovery Centre Brings Child's Drawing To Life!
Thursday 11th November 2021
LEGO, Custom LEGO Build, Large LEGO Build, LEGOLAND new build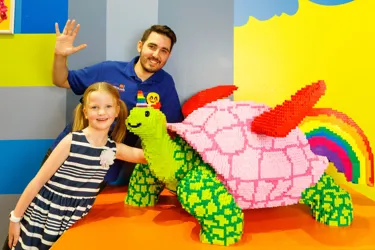 Thursday 11 November 2021 – What's 1 meter wide, made of over 15,500 LEGO® bricks and was created in the imagination of a five year old girl? The newest build at LEGOLAND® Discovery Centre Melbourne of course!
Elisha (from Tatura, VIC) was selected the winner of LEGOLAND Discovery Centre's "Create A Creature" competition, with her drawing of the mythical half-unicorn, half-turtle creature she named the "UniTurtle".
The UniTurtle drawing was brought to life by Master Model Builder Kieran Jiwa, and is made from over 15,000 LEGO® bricks, is over one meter wide and took a total of 100 hours to design and build.
The life-size UniTurtle was unveiled to Elisha and her family on a special trip to LEGOLAND Discovery Centre, where she was surprised and delighted to see her drawing brought to life in LEGO®.
In her winning entry, Elisha explains the inspiration behind her design. "Uniturtle is really special because she spreads happiness wherever she goes. If she uses her rainbow horn to tap on your door, then your house is suddenly filled with fun. When there is a bad guy, she hides her unicorn features so that she just looks like a normal turtle. She carries her house on her back so she can live wherever she wants to. Inside her shell, she has three levels. The top level is where she eats her dinner which is vanilla ice cream. She has it for lunch and breakfast as well".
After months of building, Master Model Builder Kieran Jiwa shares, "I'm delighted to have been able to bring Elisha's creation to life. The story she told about her UniTurtle was magical and I just had to build it! I wanted to make UniTurtle life-sized which proved to be a challenge since it is so big! With some useful building techniques I have made the finished model nice and strong so that it can stay permanently at LEGOLAND, and I'm so pleased that Elisha loves the result".
The UniTurtle is now on display at LEGOLAND Discovery Centre Melbourne. Located at Chadstone Shopping Centre, LEGOLAND Discovery Centre is an indoor LEGO playground that features MINILAND Melbourne, two rides, multiple build and play zones, soft play zones, a 4D cinema, and a LEGO retail store. The attraction is designed specifically for families with children aged 3-10.
Book your visit to LEGOLAND now to see UniTurtle! 
Book Now