8 Fascinating LEGO Minifigure Facts!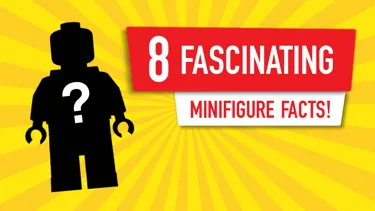 We all love Minifigures, there's one for everyone! Check out these 8 fascinating Facts about LEGO Minifigures!
8. Minifigures launched into space!
A set of very special Minifigures was launched into space aboard the 2011 NASA Juno mission to Jupiter, setting the record for the furthest distance travelled by a LEGO Minifigure. The Minifigures were modelled after the Roman god Jupiter, his wife Juno, and Galileo Galilei. Unfortunately we won't be seeing these guys back on Earth anytime soon, but what will the aliens think when they see them?
7. Designing Minfigures take over a year!
It takes LEGO designers over a year to design a Minifigure! It initially took designers over 3 years to come up with the basic Minifigure we know and love today!
6. The rare Mr Gold Minifigure!
In 2013 as part of LEGO Minifigures Series 10, LEGO had fans running all over to hunt for the limited edition Mr Gold Minifigure, there are only 5,000 of him globally! He is currently valued at $1,900 USD on the secondary market!
5. 30 Collectable Minifigures series have been made!
The first Collectable Minifgures series started in 2010 with Series 1, there was 16 Minifigures to collect in that series. There have been a total of 30 series made so far, consisting of 549 Minifigures!
4. Minifigures are 4 LEGO bricks tall!
LEGO Minifigures (without Hat or Hair accessories) are 4 LEGO bricks tall!
3. The first ever Minifigure!
The first ever LEGO Minifigure was the Police Officer Minifigure, introduced in 1978. LEGO brought back the Police Officer in its Minifigure Series 18 to celebrate the 40th Anniversary of the Minifigure, however there was only 1 Police Officer in every LEGO box sold, making him the most sought after Minifigure of the year! You can see how they are made here.
2. Over 4 billion Minifigures have been made!
Since 1978, over 4 billion Minifigures have been made, if they were people, they would be the largest population on Earth, more than double of China's current population!
1. The most expensive Minifigure ever made!
According to the Guinness World Records, the gold reproduction of bounty hunter Boba Fett, from the original Star Wars trilogy, is the most expensive LEGO Minifigure ever made! There are only two of these rare Minifigures in the world and are valued at $11,495.95 USD (over $16,090 AUD!). This solid 14-carat gold Minifigure is accompanied by 2 other Bob-Fett Minifigures in the set that was given away as competition prizes at the San Diego Comic Con and the 2010 Celebration V Star Wars festival. Amazing!
Credit: Minifigure Price Guide
THINKING ABOUT LEGO?
Seems like you are in the mood to build some LEGO! Check out our large range of LEGO products, including LEGOLAND Exclusives on our online store now! 
Shop now!
Adult Night Tickets
Online From
$39.99
Per Person
The big kids turn to explore the ultimate indoor playground
Test your skills at the speed build challenges, or scavenger hunts – there are plenty of prizes up for grabs!
Enter our build competition! The winner receives an awesome prize every Adult Night!
Platinum Merlin Annual Pass
Online From
$120
Per Adult
12 months of family fun at 10 top attractions in Australia and New Zealand
Receive a great range of exclusive benefits and deals

Please Note: LEGOLAND Discovery Centre is open from 1:30pm on ANZAC Day and is open everyday during School Holidays. During school term, LEGOLAND Discovery Centre is closed on Tuesday and Wednesday. 

Please Note: Remember to book your time-slot in advance to guarantee your entry. Annual Pass pre-book slots are subject to availability.