5 things LEGO mums can relate to
Friday 29th November 2019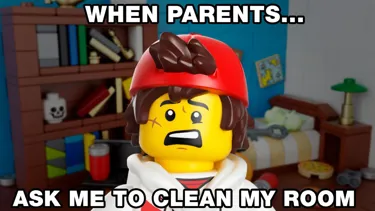 We all love our kids! However when you add LEGO into the mix, this love can take many forms!
5. That one retired set that your kid wants for their birthday
So your children just found their passion for LEGO, great! But there's a catch, in the digital age where iPad and computer use is prevalent, your kids like to google and search up the things they like. And of course, for their birthday what do they want? A retired LEGO set that is no longer in stores, and to add more salt to the wound, that is the only set that they want for their birthday! You panic and start hunting and searching for the set on every site possible, but it's not there! HELLPPP!!!!
4. Telling your kids to "Pick up your LEGO"
All mums go through this on a daily basis, if mums got a dollar every time they said "Pick up your LEGO", parents won't need to work! The LEGO brick must be a long lost cousin of sand. They seem to be everywhere, the car, under the bed, under the couch, any place imaginable! Just when you think that you are all done cleaning, there's more!
Honestly, it's great seeing your kids playing with LEGO rather than having their faces glued to their iPads and TV, so really we are all benefitting, think of it that way!
3. Finding all the original pieces of that broken car…
We all have experienced this, you always get your honey moon period at the start when you buy a new LEGO® set, but this does not last long! Soon comes the tension as the LEGO® car that you have been working on, with your kids for the last couple of days is simply shattered in a matter of seconds! Fast forward a couple of weeks or months when you finally get around to re-building the car... WHERE ARE THE PIECES? You think to yourself, 'maybe it's easier if I just buy a new one!'
2. Your child building something just for you
Isn't it sweet when your kid waddles over proudly with their LEGO build that they built just for you! When they blabber out the words, "I built this for you mum!", it just makes your heart melt - all that cleaning up later is all worth it! Who knew that parent hood can actually be rewarding! (most of the time!)
1. Stepping on a LEGO brick – ouch!
We all know that feeling, ohh the pain and the agony! It was so painful that you accidentally let out one of those naughty words! (oops!) Some mums even think that it's more painful than childbirth! If you have not experienced the joy yet – let us know how you have avoided it, we are sure all mums out there would love to know!
Did you know that two-by-two LEGO® bricks can withstand pressure up to 4,240 Newtons, making them one of the toughest toys! We all know that the LEGO brick is the most horrible thing you can ever step on and there has actually been some research conducted by the Smithsonian, who reckon that it hurts more than walking on Fire or Ice!
More Exciting Blogs and Tips coming soon!
Look out for our LEGO Tips coming soon, cleaning, storing and more! In the mean time, check out our LEGOLAND Fun Hub for fun and educational resources for your kids at home!