PLAN YOUR STAY
Things to do in Melbourne
Fun, Family friendly things to do in Melbourne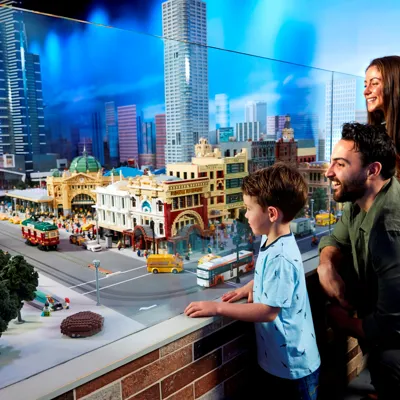 EXPLORE THE CITY!
There are so many fun things to do in Melbourne that will keep the whole family entertained. Have a look at some of these awesome things we've listed below. We bet there's at least one you didn't even know existed!
GIANT HEDGE MAZES
If you want to get outside and explore, hedge mazes are definitely one to put on your list. Hedge mazes will always be a hit with kids, both young and young at heart. They are equally as thrilling as they are frustrating but nothing can beat the feeling of satisfaction when you make it to the end. They are a great way to bond as a family as you work together to find your way through, as well as a great opportunity for your kids to get some fresh air and be amongst nature whilst getting exercise and using their brains.
TRAMPOLINE PARKS
Unless you're keen to jump out of a plane, there's no way you can get the feeling of free falling other than bouncing high on a trampoline. There are many indoor trampoline parks around Melbourne for you to choose from, with hundreds of connecting trampolines, dodgeball courts, rock climbing walls, sky high obstacle courses, foam pits to plunge into and much, much more.
COLLINGWOOD CHILDREN'S FARM
Located just 5km's from Melbourne CBD, on seven hectares of beautiful paddocks and gardens, Collingwood Children's Farm is home to many animals, young and old, that you are able to get up close and personal with. It's not just the animal cuddling to be experienced, there are many things you can get involved in, from collecting eggs, feeding the animals, milking the cows, bottle feeding young lambs (when in season) and helping out with other farm activities. There is a Farmer's Market on the second Saturday of every month, a BBQ on the first Sunday of every month and regular family days with pony and tractor rides.
SEA LIFE MELBOURNE AQUARIUM
For the ultimate aquarium experience, visit Sea Life Melbourne Aquarium, located on the banks of the Yarra River right in the heart of Melbourne! Dive into the different zones, meet sharks or watch a Penguin waddle by!
LEGOLAND® DISCOVERY CENTRE
The ultimate indoor playground awaits you. With 12 LEGO® play areas to explore, including 2 rides and a 4D cinema, there is so much fun to be had! Explore MINILAND®, a mini replica of Melbourne's favourite and iconic buildings and landmarks made up of over 1.5 million LEGO® bricks! Experience the outside elements in the 4D cinema or jump onboard your chariot to rescue the princess on the Kingdom Quest ride, plus so much more! Your children will think they're simply playing and having a good time when, in fact, building helps to develop skills such as spatial awareness and problem-solving, as well as valuable social and cognitive skills. LEGOLAND® Discovery Centre is completely indoors, so no matter what the weather is doing outside, you'll be having fun inside!