NEW LEGO® STAR WARS™ HELMETS INSPIRED BY THE DARK SIDE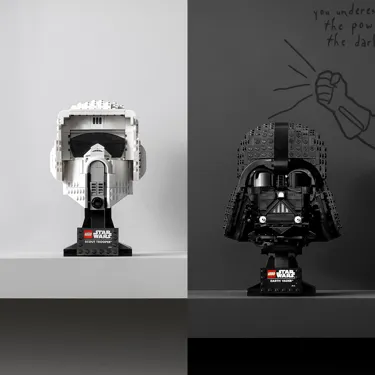 Darth Vader™ Helmet 
$89.99
Pay homage to the Dark Lord of the Sith with this collectible LEGO® Star Wars™ Darth Vader Helmet (75304). Immerse yourself in the complex building process and relive classic Star Wars saga scenes as you recreate the iconic shape and sinister details of the helmet in LEGO style.
Designed for display
The Darth Vader Helmet is a compact size and has a display stand with a nameplate to complete a striking centrepiece that will enhance the decor of your home or workplace.
Scout Trooper™ Helmet
$89.99
Test your construction skills and recreate memories of epic Star Wars™ scenes as you build the Scout Trooper Helmet (75305). A complex LEGO® Star Wars building set offering a fun, creative way to unwind, every contour and detail of the helmet is beautifully recreated with LEGO bricks.
Build and display
This Star Wars collectible has a display stand with a nameplate to complete an eye-catching centrepiece for the home or office.