Meet the LEGO Masters contestants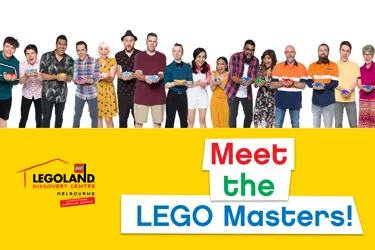 There's no better place to get to know Australia's top LEGO builders than LEGOLAND Discovery Centre – Australia's only indoor LEGO playground!
Contestants from Channel 9's smash hit TV show including Henry, Cade, Kaitlyn, Marielle, Dinushi, Gayan, Maddy, Jimmy, Miller, Jordan, Bilsy, Kale, David, G, Matt and Lyn will be hanging out at LEGOLAND Discovery Centre in Melbourne on Sunday 7 July for a FREE meet and greet with brick builders of all ages.
LEGO fans can roll up to the balcony outside LEGOLAND Discovery Centre to learn LEGO tips and take a bricktastic selfie with the special guests from 10am – 1pm.