LEGO CAT COMPETITION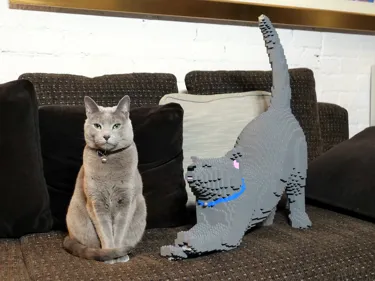 In celebration of International Cat Day on Saturday 8 August, LEGOLAND® Discovery Centre launched a competition whereby one lucky ailurophile will win a custom-made LEGO® model of their beloved cat!
Cool cats and kittens can submit a photo of their pet on LEGOLAND® Discovery Centre's competition post on Facebook to be in the running to win a life-size replica built by Kieran Jiwa, who has the coveted role of Master Model Builder.
"As a self-confessed cat lover, I'm pretty excited about this competition. In preparation I have already done a practice run with my own cat Freya. 
This not-so-furry feline is made up of 5,000 LEGO pieces and took me about 50 hours to design and construct," said Kieran.

"Freya was hesitant to meet her LEGO double but now they're firm friends! I'm looking forward to seeing the entries come through and honing my cat building skills. 
Once I've finished the model I will be handing it over to the winner to display at their home."

Competition entries must include a reason why the cat should be created in LEGO along with its name, age and breed. 
The competition closes on Tuesday 25th August 2020.