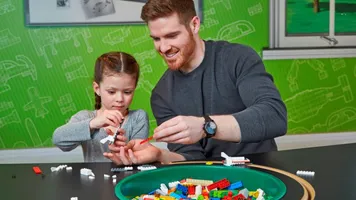 Model builders workshop
Each Discovery Centre has its own LEGOLAND® Discovery Centre Master Model Builder, responsible for all the brilliant buildings, exciting animals and strapping heroes that you'll discover throughout the Centre. Here in the LEGOLAND® Discovery Centre Master Model Builder's workshop you'll have your chance to learn from the Master with hands-on tuition from the best in the business and learn how to create your own incredible models.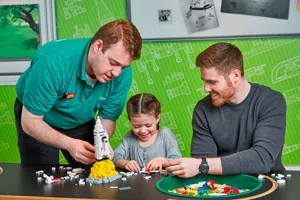 What to expect in the LEGO Model Building Workshop:
A 30-45 minute LEGO workshop focused on challenging models.
Learn from our model builders and create your own LEGO model to take home
Receive a model building certificate.
Additional Information:
Priority for the coveted spots will initially be given to children. Parents are welcome to sit alongside and participate or watch from the outside if there are enough seats available.
If you love the model you built, it is possible to purchase it for €4 per model.
Workshops are offered every hour, but in the mornings, pre-booked school workshops will have priority.
Each workshop can accommodate up to 26 children.