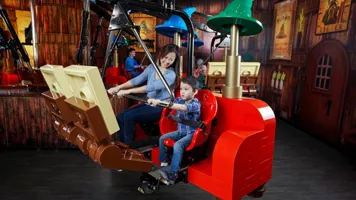 Discover Merlins Magic Library - a world full of magic and fantasy!
The faster you pedal, the higher you fly! Conquer the force of gravity, because only then will you be the best student of Merlin magic.
You will need courage and speed as well as some muscle strength in this area. Let the wind blow around your ears and enjoy the magical ride as a student of Merlin.
For safety reasons, the following people may not go on this ride:
Babies and toddlers shorter than 105cm and under the age of 4
People taller than 2m
Pregnant women
People suffering from epilepsy
People with neck and back problems
People who cannot assume a sitting position or are unable to hold onto rails
People with a walking disability or in a wheelchair
People with heart problems
Blind people - Exception blind children with an adult of full age (if height and age restriction not apply)
Children shorter than 130cm and under the age of 8 may only ride right next to a supervising adult.
Use only with solid footwear.
Deaf people can join the ride. 
A supervising hearing adult ir required for groups of 3 deaf persons.