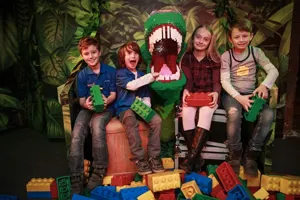 Globally unique and new subject area at LEGOLAND® Discovery Centre Berlin: LEGO® Dino Explorer
The most colorful LEGO® indoor playground in Berlin will be 10 years old and gifts itself and all visitors a unique and new game area: Dino Explorer. Explore the Dinos and recreate them of LEGO® bricks at LEGOLAND® Discovery Centre Berlin. Together with your family you will become a real Dino Explorer. From thousands of LEGO® bricks, a world-wide unique play area with a lot of different stations around dinosaurs has been created.
A very special excavation site is waiting for you and your children. There you can find different dinosaurs and follow their hidden traces on the island of Dinos. Bound with luck and skill you may find one of the rare Dino eggs. What kind of dinosaur is probably inside the egg?
Continue your journey through the LEGOLAND® Discovery Center Berlin to the station of research on the island of Dinos. Here everyone is able to shoot their own LEGO® Dino film clip. At the different construction tables you have the possibility to build your own LEGO® islanders or create instructions for jeeps, dinos, crocodiles and helicopters made out of LEGO® bricks.
A huge LEGO® T-REX awaits the bravest of you. Get photographed next to him and become a real Dino Explorer.
The new play area will offer fun and a new experience to all fans of LEGO® and dinosaurs in addition to the 14 other areasin the LEGOLAND® Discovery Center Berlin. In the Center, you can experience many different things, whatever the weather looks like. Take a Dragon Ride through the mediaeval times and experience an unique 4D filming adventure in our cinema. In our Model Builders Workshop you can go through the LEGO® school with our real LEGO® model builders. In the LEGO® Factory you learn everything about the production of the colorful pages and you can create your own LEGO® brick.
Based on the LEGO® values: playful learning, boundless variety of ideas, interactivity and active fun, every attraction of the LEGOLAND® Discovery Center Berlin offers a unique mixture of exciting entertainment and educational needs under one roof.
You are a real LEGO® fan and want to experience our new playing area in the world of LEGO® Dinos? Then book your tickets online and save up to 40% against the cash on the spot.