With 2 million LEGO® bricks under one roof, the sky's the limit at LEGOLAND® Discovery Centre Berlin.  It's the ideal place to let your class experience a world of fun, creativity and imagination.
Every child knows about LEGO®, so they'll immediately be familiar with the idea behind the LEGOLAND® Discovery Centre: building incredible things and creating a story around them.
School & Kindergarten Ticket
Exciting addition to the classroom or day-care routine
Discounted group price from and more 10 children
For every 10 children 1 accompanying adult is free of charge
School & Kindergarten Workshop
Experience and learn more on your school trip
Two exciting workshops to choose from (specially designed for school classes and day care groups)
Reduced group rate for groups of 10 or more children
For every 10 children, 1 accompanying adult enters free of charge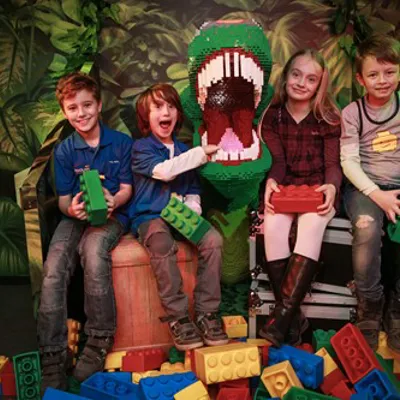 What we offer
Whether big or small - everyone knows LEGO® - including your pupils!
What your school class can experience at the LEGOLAND® Discovery Centre Berlin:
Build fantastic structures and invent exciting stories
Construct fast racing cars that can then compete against each other on our race track
Designing buildings that can withstand our earthquake simulator
In our MINILAND®, physics is indeed put directly into practice.
Here, Berlin's most important buildings are represented to scale in LEGO®, providing a great opportunity for students to learn more about the local environment.
Prices

| | |
| --- | --- |
| Students | €6.00 per student |
| Teachers | Every 10 students: 1 teacher free entry |
| Additional Adult | €6.00 per Adult |
| LEGO® Workshop (per student) | Additional €1.00 on top of admission |
The above prices apply exclusively to classes of 10 or more.
Our Workshops
Learn about science and technology in our LEGO® workshops.
The interactive LEGO® workshops for primary school children offered by the LEGOLAND® Discovery Centre Berlin teaches science and technology in an age-appropriate way. Additionally, they are taught key skills that are essential in modern societies:
Ability to work in a team
Independence
Communication skills

The following applies to the workshop:
Valid only with online booking, Monday to Friday, excluding Berlin Holidays.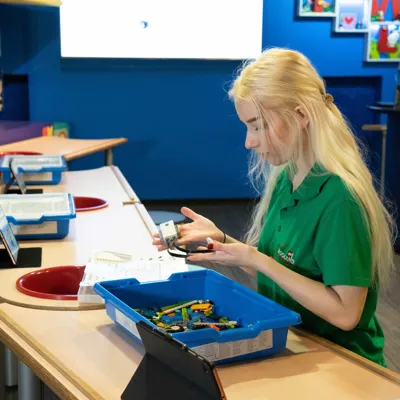 LEGO® WORKSHOP "Milo, the research probe" - Robotics for primary school pupils
Max. Participants: 35 | Grades 2-5 | Duration: 45 minutes
Only 1 Euro per child (can be added in the group)
LEGO® Education WeDo 2.0 is a unique, easy-to-understand learning concept for primary school.
Exciting and child-friendly, Milo, our research probe, awakens your pupils' interest in science education. Using the versatile construction elements, the class develops model solutions with a lifelike application. In this way, scientific, biological and technical topics from the educational curriculum comes alive and are easy for everyone to grasp.
It is particularly exciting when your pupils bring the models they have built to life with a simple programming language. They learn the elementary logic of programming and are encouraged to identify problems and develop creative solutions.
Booking Enquiries
Want to find out more about our current offer for schools and day care centres? Call our Service Centre free of charge on 0800 5891766 and get advice.
You can easily make bookings directly online at the top of this page.
FAQ
Simply book online and secure your spot.
Yes, to benefit from the discounted rate you need to book in advance.
We recommend that you book your school visit at least one month in advance. 
The bus can drop the students in front of our door but cannot stay there.
Please contact the local tourist information for further details.
That depends on the age and the number of children you come with. For more information on special school deals, please click here.
If you want a special workshop please call the LEGOLAND® Discovery Centre (0800-5891 766).
Merlin Entertainments or other authorised parties carry out photography and/or video recording at the attraction which features guests and be purchased as a physical and/or digital product.
Booking your group entry to the attraction is deemed acceptance for the group to be photographed. Group members are of course able to opt out by not engaging in any photographic situation and should be managed by the group leader, minors (under 16 years old) must have parental consent obtained by teacher or group leader to have their group photograph/film taken.