The LEGO® learning concept for day care children makes the LEGOLAND® Discovery Centre an extracurricular learning venue that will inspire children.
School & Kindergarten Ticket
Exciting addition to the classroom or day-care routine
Discounted group price from and more 10 children
For every 10 children 1 accompanying adult is free of charge
School & Kindergarten Workshop
Experience and learn more on your school trip
Two exciting workshops to choose from (specially designed for school classes and day care groups)
Reduced group rate for groups of 10 or more children
For every 10 children, 1 accompanying adult enters free of charge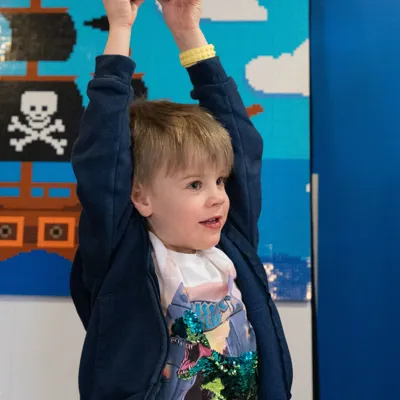 What we offer
We always have the following offers for daycare groups making a trip to us:
storage boxes for backpacks and jackets (limited supply)
wheelchair accessible equipment
Educators can, of course, visit the LEGOLAND® Discovery Centre Berlin free of charge in advance so that they can prepare the trip with the children in the best possible way.
BOOKING AND QUESTIONS
Would you like to know more? You can reach us on the free phone number (0800-5891 766). You can easily book online at the top of this page.
Prices for the visit with the nursery or kindergarten:
Day care/Kindergarten groups

6,00€ per Child

Accompanying teacher or adult

1 teacher free for every 10 children

Additional accompanying adults

6,00€ per Person

LEGO Workshop 45 Minutes
"ANIMAL BINGO"



1€per child, in addition to admission
Where playing and learning is really fun
In small children, observation is strongly linked to thinking and problem solving than in adults. Observation with all the senses forms the basis for cognitive development of the brain, amongst other things.
The LEGOLAND® Discovery Centre is the ideal place to try out your senses and train your observation skills and fine motor skills.
For example, what does it feel like to reach into a giant LEGO® brick box? What does it sound like when a tower made of LEGO® bricks, which is bigger than you are, topples over?
It is quite clear that this gathering of impressions trains the ability to pay attention and concentrate.
It also improves verbal expression:
Children like to talk about their experiences during play and it helps them to process what they perceive in the best possible way - listening often holds exciting surprises. This gives a good impression of whether the child is grasping the many aspects of the game and where one can help him or her if necessary.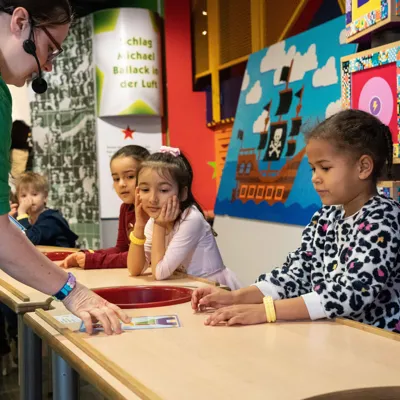 Workshops for Kindergarteners
A workshop visit is also worthwhile with pre-school children. The learning content is specially adapted to the developmental stage of this age.
The following applies to the workshop:
Only with online booking and only Monday to Friday, outside holidays.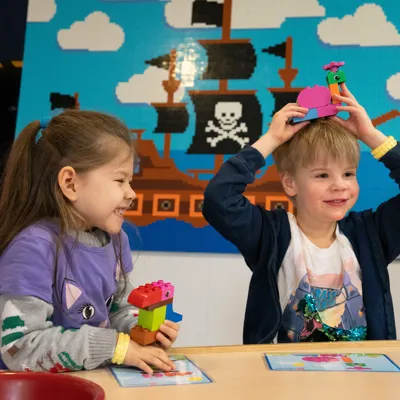 LEGO® DUPLO® Workshop "Animal Bingo" (LEGO® EDUCATION)
Max. Participants: 25 | Age: 3 - 6 years | Duration: 45 minutes
For Kindergarteners
This new version of the classic children's game "Bingo" takes your little ones into the realm of colourful LEGO® DUPLO® animals. With eight double-sided, colourful bingo cards, children have the opportunity to build a total of 16 different animals. Educationally valuable, because the aim is to choose the right building element in their own colour. The first one to fill his Bingo card is the winner. With the LEGO® DUPLO® Animal Bingo from the LEGO Education series, various skills are promoted, such as: recognising shapes and colours, comparing and counting the elements as well as communicating together and adhering to the rules.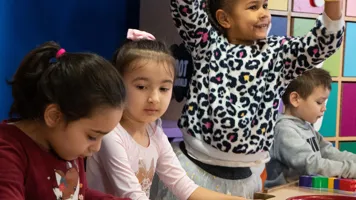 "Animal Bingo" Workshop
Take a look at what a Kita workshop looks like!