LEGO® Ninjago Laser labyrinth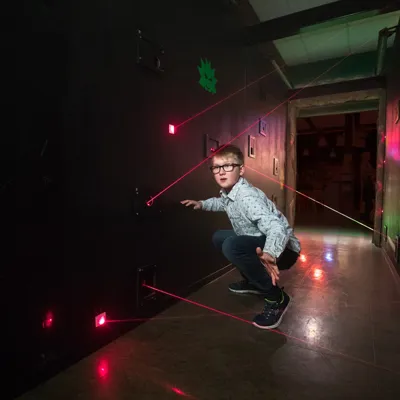 Get into the Laser labyrinth
In the legendary land of Ninjago, Sensei Wu and his students Jay, Kay, Zane and Cole fight the ultra-evil. Together they learn the martial art of Spinjitzu to win against the evil Lord Garmadon.
Here everything revolves around the secret martial arts of the ninjas in a laser maze:
skill
Responsiveness
perfect camouflage
The Ninjago Laser Training Camp offers fun for the whole family. An interactive labyrinth with lasers lets you cross courses of different difficulty and trains you to become a real ninja.
Further information:
At the beginning you can choose between different levels of difficulty. These decide how close the laser beams are in the course. After pressing the start button, the time begins to run and the ninja in training has to move between the laser beams as quickly and skillfully as possible. At the end, the time is stopped by hitting a buzzer. So you can measure yourself against other players.