Kingdom Quest
Become part of the royal army, climb aboard your car and save the princess in a fight against evil skeletons and giant trolls! With lasers you drive through the royal landscape, which offer an exciting adventure with LEGO elements and video screens.
Try to catch as many skeletons and trolls in battle to save the princess from the LEGO world:
Collect points with your laser by aiming at the opponents
The more unerringly you are, the more points you get
Group pictures are taken during the journey. So you can take a photo of your exciting ride home with you as a reminder of how much fun you had.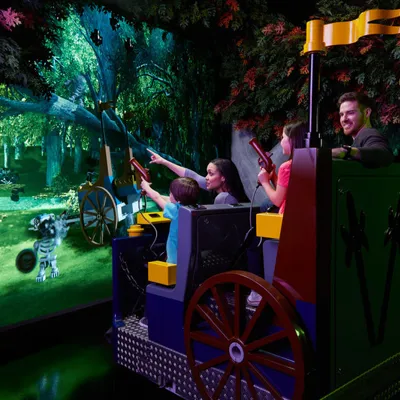 More Information
The Kingdom Quest is the first attraction after the LEGO factory. But you can always return through MINILAND to do another lap. 4 people can travel per car.
Unfortunately, the following people are not allowed to take part in this trip for safety reasons:
Babies, pregnant women and people who cannot get on and off independently
People taller than 2.00 m
People who suffer from epilepsy
People with neck and back problems
People who cannot take a normal sitting posture or who cannot hold on
Handicapped people and wheelchair users
People with heart problems
Blind people
Children under 8 years and under 1.30 meters need to be accompanied by an adult.
Children under 3 years and under 0.90 meters are only allowed to ride next to an adult.
Use only with sturdy shoes.