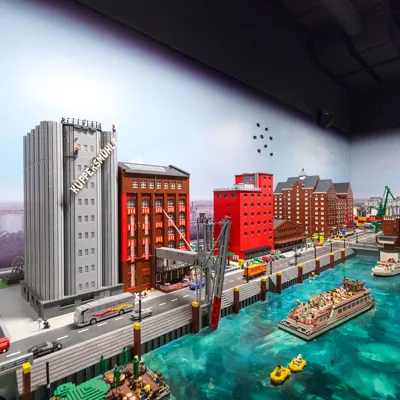 Big cities go small
Witness how the Ruhr area and well-known buildings from the area are brought to miniature life in the spectacular MINILAND®. Built from almost 1.5 million LEGO bricks, with moving trains - even the smallest viewer feels like a giant! Watch as night falls in MINILAND, the lights go on and the LEGO residents enjoy the beautiful LEGO night. How many buildings do you recognize?
Discover the landmarks of the Ruhr area and the surrounding area, built from LEGO® bricks, such as
the Oberhausen gasometer
the Düsseldorf Rhine Tower
the Zeche Zollverein
or the largest football stadium in Germany, SIGNAL IDUNA PARK (Borussia Dortmund's home stadium).
More Information
The MINILAND can be controlled interactively by the children with many buttons. With the different buttons you can for example:
Start the treadmill at Düsseldorf Airport
Operate the clock of the Düsseldorf TV tower
Get the Ferris wheel going
Let the freefall tower crash
Start trains
In Signal Iduna Park, you can even play a soccer match against each other. Whoever scores a goal first wins.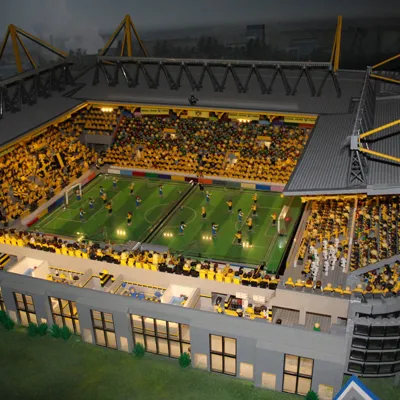 Dream job: Model builder
Our models are built and maintained by our master model builder Anja. Some examples:
Gasometer Oberhausen: 35,126 LEGO bricks / 195 working hours
Zeche Zollverein: 77,278 LEGO bricks / 550 working hours
Signal Iduna Park (BVB Stadium): 125,000 LEGO bricks / 460 working hours
Düsseldorf Airport: 47,200 LEGO bricks / 300 working hours
The models are built on a 1:45 scale. There are no instructions for this. The construction plans are created on the computer with a special LEGO program. Here the models are not only displayed graphically, but the required amount of stones is also calculated. Original construction plans / floor plans provided to us by the responsible partner served as a template for our latest models (DUS Airport and Düsseldorfer Fernsehturm).