Rainy Day Kids Birthday Party Ideas Melbourne
Wednesday 20th March 2019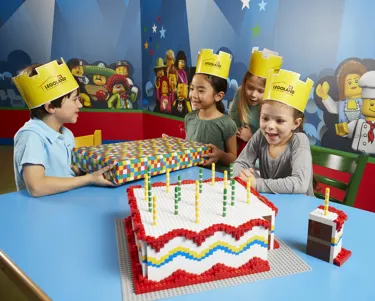 We often get four seasons in one day, so planning a kids' birthday party can be a challenge. How do you find a sweet wet weather option that won't bore your pint-sized party-goers to tears? The good news is, Melbourne has a bucket-load of indoor kids birthday party venues and other entertaining ideas for a rainy day.
DIY Time
Break out the denim overalls, because Bunnings runs free DIY workshops for kids. Who knew that the warehouse of your weekend wanderings has something in store for juniors? Under careful supervision, kids can build a flower box or toy truck, discover the art of painting, or enjoy many other workshop activities. There's a different theme each week, so contact your local store for more info.
Finders Keepers
When you can't beat the weather, embrace it! If it's only a little bit drizzly, take the kids on a scavenger hunt. The bay or local park are great locations for exploration. Pair each child with a buddy, and give them an umbrella to share, along with a copy of the scavenger hunt checklist. These can be found online, or make up your own with instructions like 'find a white seashell' or 'collect a seed pod.' Have rewards ready for kids who tick off the entire list. For younger kids, this can be as simple as a sticker or hand stamp. Once the hunt is over, a thermos full of hot chocolate will go down a treat.
LEGOLAND® Discovery Centre
LEGO® is addictively fun to play with, allowing kids to engage with each other socially while being off-screen for a few precious hours. Plus, LEGOLAND® Discovery Centre in Chadstone is indoors, which makes it the ideal place to hold an all-weather party. We can help with the party planning; arranging invitations, games and decorations, along with food and drink. There's even a LEGO® cake! LEGO® is entertaining for kids of all ages, which means siblings will enjoy this bricktacular experience as much as the birthday boy or girl. Reconnecting with your inner child is just another part of the fun.
Once Upon A Time…
Your local library can be a real resource for a pint-sized party. While you wouldn't want to show up with a whole class in tow, a small group can be easily entertained. From story time to special tours and activities, there's a lot on offer. For example, the State Library Victoria has a 'Play Pod' which is open daily for children under 8. Modern libraries have shaken off the stuffiness of the past, so take advantage of what's on offer for a rainy day.
Game On!
Get back to basics with a retro games afternoon at home. Set up tables and rugs around the room, and arrange each area as a game station. Place a board game or deck of cards in the centre, with useful accessories such as an egg timer to keep the game moving. If the kids get restless, make sure you've got plenty of party snacks ready. Having access to your kitchen is another advantage of hosting the party at home.
Don't let a rainy day be a party pooper. With a little imagination and planning, you can create a memorable event for your child, no matter what the weather. Hip hip!
Learn more about the LEGOtastic birthday parties at LEGOLAND® Discovery Centre