SIGN UP TO THE EXCLUSIVE LEGO® NINJAGO® TRAINING CAMP AND JOIN THE CELEBRATIONS OF 90 YEARS OF LEGO® BUILDING
Tuesday 12th July 2022
LEGOLAND® DISCOVERY CENTER HONG KONG
NEWS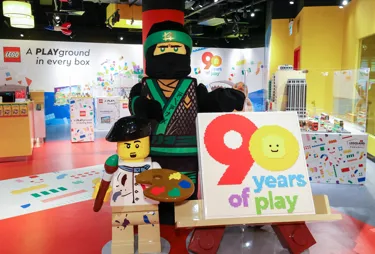 At LEGOLAND® Discovery Centre Hong Kong, an exciting, activity-based experience is about to get underway.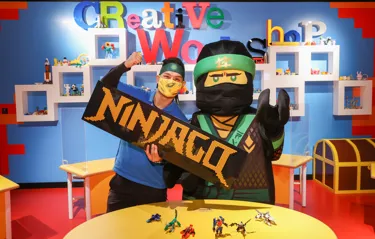 LEGO® NINJAGO® is the longest home-grown IP of LEGO®, it is also one of the most popular LEGO® themes. This Summer, the long-awaited season 14 of the series will be broadcast on TVB Jade, YouTube and Netflix. From now until 30 September 2022, Master Wu, the wise and ancient master of the ninjas, is opening the doors to his exclusive LEGO® NINJAGO® Training Camp as he looks to train and recruit a new crew to join his Ninja team. Young Ninjas can level up their Ninja skills to master five of the Ninja virtues - courage, balance, honesty, generosity, curiosity and wisdom. Moreover, LEGOLAND® Discovery Centre Hong Kong is joining LEGO® to celebrate its 90th Anniversary.

"The journey to Ninja mastery continues, and we are excited to bring Master Wu's Training Camp to LEGOLAND® Discovery Centre Hong Kong," said Mr Eric Mak, General Manager, Hong Kong Cluster. "Focusing on five of the Ninja virtues, the children will be immersed in a real-life LEGO® NINJAGO® master class, an exciting Training Camp Experience. We cannot wait to inspire kids with the values that LEGO® NINJAGO® represents and create some fun memories at the same time. Meanwhile, we are inviting guests to join in the fun and celebrate LEGO® Group's 90th Anniversary. Let's feel the joy of celebration."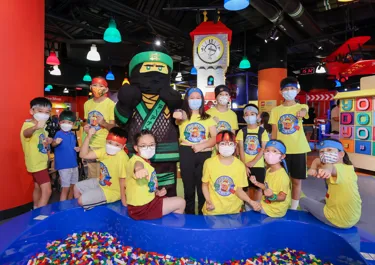 LEGO® NINJAGO® TRAINING CAMP
Through a series of fun challenges, the new recruits will be taken on a journey to prove their Ninja skills and make it into Master Wu's elite team of Ninja. All Ninjas who complete all five challenges will receive a certificate and join the interactive AR experience.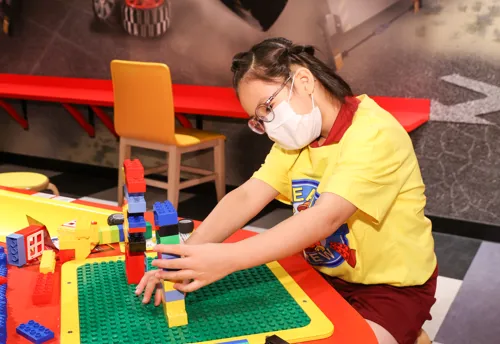 Level Up COURAGE - Build the ultimate LEGO® wall
Build a wall strong enough and high enough to protect LEGO® NINJAGO® with at least 10-storey at Earthquake Table. Test the wall to see if it can stand under a strong earthquake and upload the result on social media platform with hashtags (#NINJAGOHK#LEGOLANDDiscoveryCentreHK #香港樂高探索中心) to complete the challenge of Kai, one of the leaders of NINJAGO's team of fighting comrades.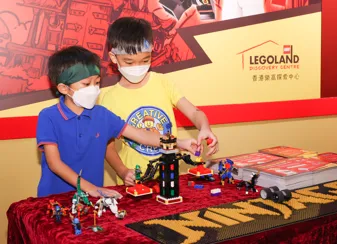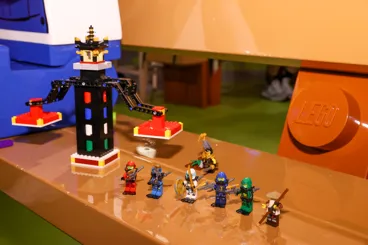 Level Up BALANCE - Steady the giant scales
Guests are encouraged to prove to the Elemental Master of Earth - Cole that they have mastered the virtue of BALANCE. Use the giant scales at the Assembly Point and add just the right amount of bricks
to get the scales level.
Level Up HONESTY - Make a pledge to be truthful
Guests have to make Jay, the Lightning Ninja, proud by signing a pledge of honesty card at the Assembly Point and take home as a reminder of this important virtue of their visits to the Ninja training camp.
Level Up GENEROSITY - Build a unique gift for Master Wu
Be like Zane, the first Nindroid ninja, and show your generous nature by building a small Ninja for Master Wu and share the work on social media platforms with hashtags ((#NINJAGOHK#LEGOLANDDiscoveryCentreHK #香港樂高探索中心).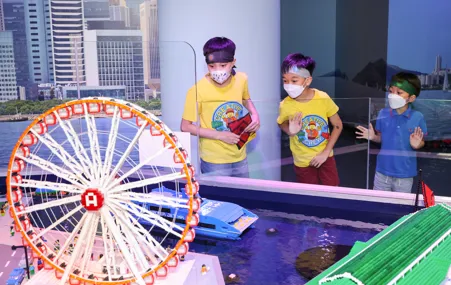 Level Up CURIOSITY - Join the Ninja hunt and search MINILAND for our missing Ninjas.
Ninja heroes, Cole, Kai, Nya, Lloyd, Zane and Jay have hidden themselves around MINILAND®. Complete Nya's test by taking photos at their hidden spots.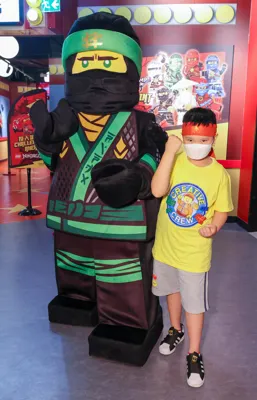 Kai and Lloyd join and wish everyone luck
It is not easy to be a Ninja, the confident and brave Fire Ninja – Kai and the Elemental Master of Energy – Lloyd will join the event and support every Ninja at different times. Check on our official social media platforms and see when they will be around.
Purchase the limited time offer – Be Ninja now
From now on until 30 September 2022, guests can purchase "Be Ninja Combo" (while stocks last) from LEGOLAND® Discovery Centre Hong Kong brand website to join an extraordinary Ninja journey. The package includes 2 admission tickets, 1 VIP Digi Pass, 2 small cups of selected "Pick-a-Brick" and 1 Ninja headband. Furthermore, with the VIP Digi Pass guests can take memorable shots with LEGO® NINJAGO® heroes at the Selfie Photo Kiosk and at the digi photo zone inside Kingdom Quest.
Build yourself Ninja partners and be the best of the best
Join our creative workshops, children can get inspirations from Master Model Builder and make some cute LEGO® friends to go on for great NINJAGO® adventure.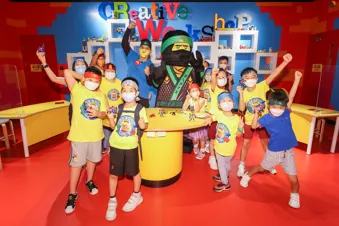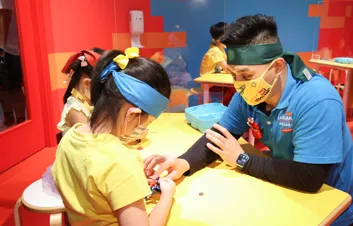 Celebrating the 90 Year of LEGO® Building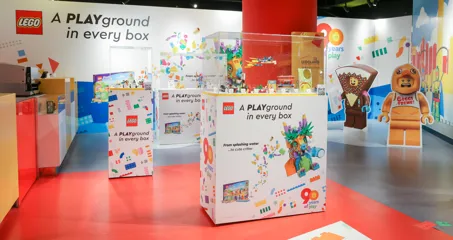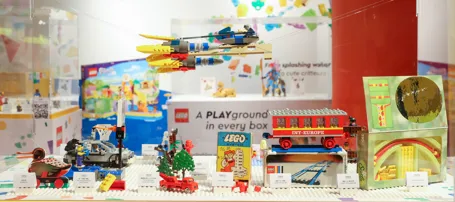 This year, LEGO® is celebrating its 90th Anniversary with the theme "Make the world a playground". To join the fun, our Master Model Builder has collected various iconic LEGO® products to display at LEGOLAND® Discovery Centre Hong Kong from now until 31 August 2022, including the first version of LEGO® Bricks from the 1950s, the first LEGO® Train Rail from the 1960s, the best-selling LEGO® Family set in the 1970s and more. Guests will be able to explore the history and fun facts of LEGO® from the exhibits.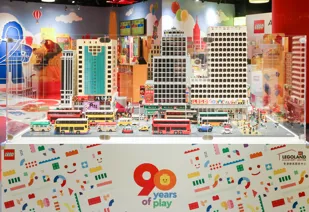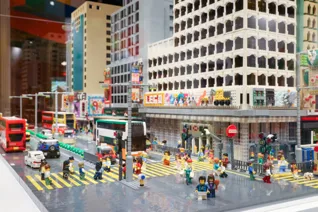 Aside, LEGOLAND® Discovery Centre Hong Kong will display one of the signature build from Andy Hung, the first LEGO® Certified Professional in Greater China Region to mark this exceptional time. The showpiece with over 700,000 LEGO® bricks shows guests the busy and crowd street view and architectures. Andy Hung has spent 8 months to bring this spectacular build alive and hopes to recreate the lively and buzzing atmosphere.
Guests are invited to take photos with the display and explore the fun of LEGO®.
Purchase an Annual Pass and Experience the Fun of LEGO® All Year Long
Get prepared to experience building fun of LEGO® by joining all limited-time events at LEGOLAND® Discovery Centre Hong Kong. from now until 31 August 2022, with an on-day ticket, upgrade and get yourself a Digital Innovation Pass or Digital Discovery Pass. Guests can receive a special gift with the upgrade (while stocks last). Enjoy special privileges including birthday privilege, dining, shopping and more discounts.

Continue to Explore LEGO® NINJAGO®
Come to the Gift Shop and go on for a breath-taking adventure with families at home now. Guests can now purchase 2022 LEGO® NINJAGO® box sets, including LEGO® NINJAGO® 71765 Ninja Ultra Combo Mech, LEGO® NINJAGO® 71764 Ninja Training Centre, LEGO® NINJAGO® 71774 Lloyd's Golden Ultra Dragon and LEGO® NINJAGO® 71775 Nya's Samurai X MECH etc. Besides, LEGO® ICONS™ 10303 Loop Coaster and LEGO® Art 31206 The Rolling Stones are two of our latest products at the Gift Shop. Get and build them before everyone does.
For more information, please visit the Facebook page of LEGOLAND® Discovery Centre Hong Kong.
Check Out Now