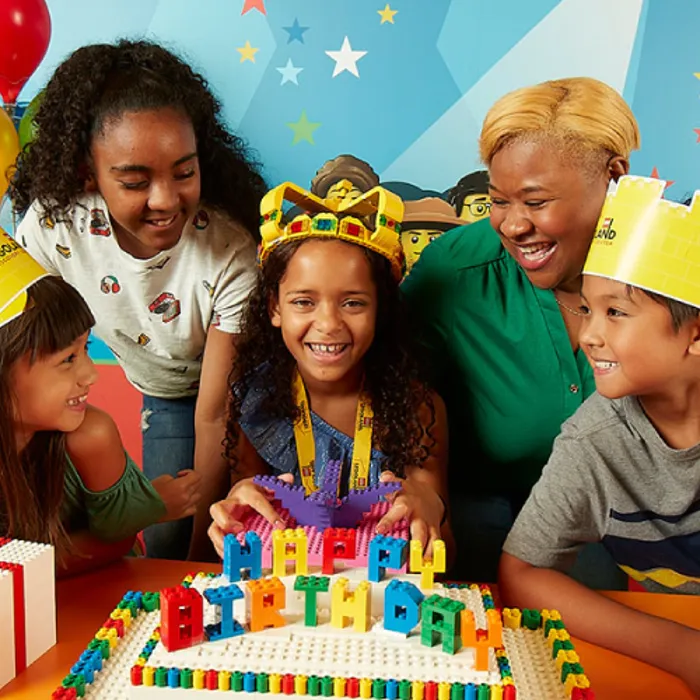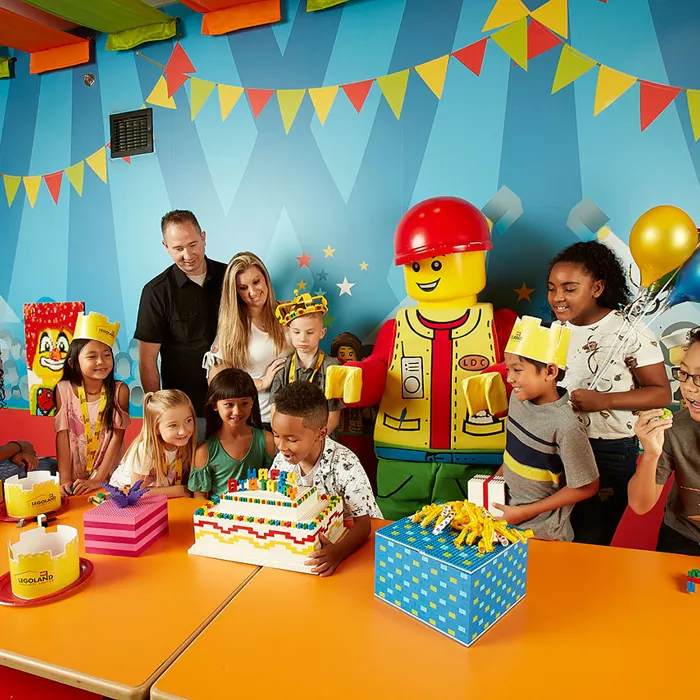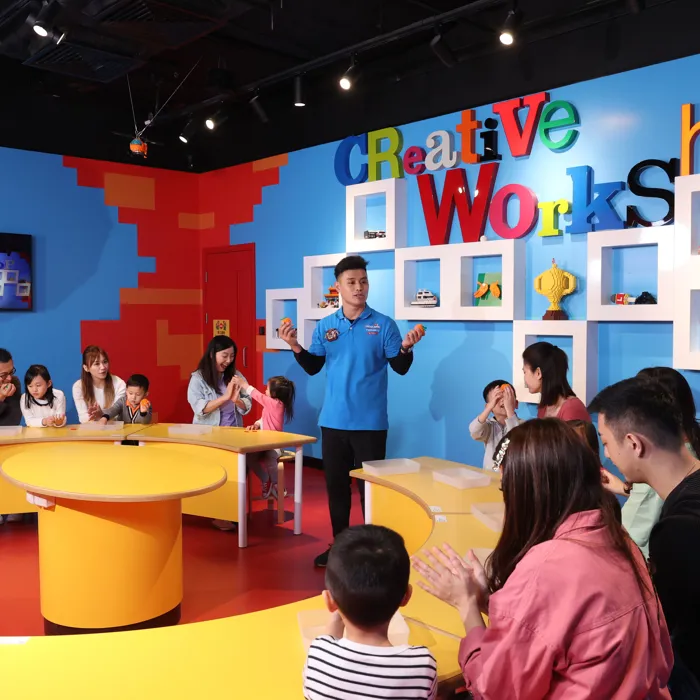 小朋友和家長在樂高®創意工作室拼砌模型
LEGO® Birthday Party
A one-of-a-kind birthday party - LEGOLAND® Discovery Centre Hong Kong welcomes kids to celebrate their birthdays here for a bricktacular party. BRICKTASTIC BIRTHDAY PARTY provides guests an extraordinary party experience.
BRICKTASTIC BIRTHDAY PARTY
20 Admission Tickets: All adults and children who join the party are welcomed to explore the creative build and fun of LEGO® at LEGOLAND® Discovery Centre Hong Kong.

90-Minute Playtime at Birthday Room: 90-minute Birthday Room playtime exclusively for all party guests. Join LEGO® minigame with the Party Host and strike your best pose at the surprise photo moment.

Birthday star gift: Birthday star can receive a special LEGO® Sketchbook Set and record all fantastic moments during the party.

Thank you gift: Apart from the LEGO® Themed Birthday Crown, all guests can join a special LEGO® Creative Workshop and bring the mini-build home.

LEGO® Mascot Special Appearance (15-min): LEGO® Mascot will turn up and join the party together.

Häagen-Dazs Birthday Cake: How can you celebrate your birthday without a cake? Make a wish with the birthday cake and mark the unforgettable event.

Muffins and Starbucks Drinks: Enjoy sweet treats and Starbucks drinks from the LEGO® Café and make the day extra fruitful.
Reminders
LEGOLAND® Discovery Centre Hong Kong is the ultimate LEGO® indoor playground specially designed for children. Adults must bring at least one child (aged 17 and under) into the attraction.


Please reserve and make the full payment 21 working days in advance.


The party will take place at a designated area within the attraction, to be determined solely by LEGOLAND® Discovery Centre Hong Kong. The duration of the party is approximately one and a half hours.


No clown, magic or other shows, mascot character or any decorations prepared by the guests are not permitted at the party.



Outside food (except one birthday cake) or drinks are not permitted at LEGOLAND® Discovery Centre Hong Kong.

Guests are prohibited from bringing banners, fireworks, audio/visual disc, tapes or recordings, speakers, or audio equipment and sparkler candles of any kind to the party.

In the event of circumstances beyond our control that the attraction shall require the cancellation of the party, including public health, black rainstorm warning or the hoisting of typhoon signal No. 8 or above, the party will be cancelled. Guests may choose to reschedule the party within 3 months from the original scheduled date of the party (subject to availability), or receive a refund of the Deposit. LEGOLAND® Discovery Centre Hong Kong will not be responsible for any loss or damage as a result of the cancellation due to issues stated herein (including payment made by guests to any other third parties).


LEGOLAND® Discovery Centre Hong Kong reserves the right to use the likeness of any participant and his/her family in a photograph or other image and video taken during party in publicity materials including official website, social media and e-newsletter of LEGOLAND® Discovery Centre Hong Kong, without any notice or consent. By confirming your party reservations, you permit LEGOLAND® Discovery Centre Hong Kong to use any such materials as afore-mentioned.


Guests should not produce, publish, display or distribute any promotional materials which may contain inaccurate, biased, misleading or deceptive content and/or which may infringe intellectual property rights.



Terms and conditions are subject to change without prior notice. In case of any dispute, LEGOLAND® Discovery Centre Hong Kong reserves the right of final decision.
Reservations for LEGOLAND® Discovery Centre Hong Kong Birthday Party are currently paused.