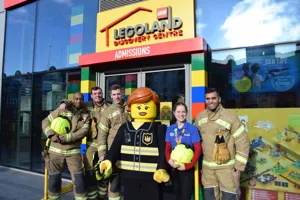 Calling all serving firefighters!
As a thank you for you hard work and dedication, we're inviting you to come and enjoy a FREE ticket at Legoland Discovery Centre Birmingham!
Join us between 3rd February - 1st March 2020!
Visit us during our brand new LEGO City: Report for Duty event where you can test your building skills against your family - can you build the fastest fire truck or create the best fire rescue scene on our stop-motion animation tables?
Why not get comfy in our 4D cinema or visit our Master Model Builder's workshop?
We've also got special a character meet and greet and new build challenges for you and your family to get stuck into!
How to claim your FREE ticket:
To claim your free ticket, simply turn up with a valid Blue Light Card/Firefighter ID to show to our admission staff. All family and friends who do not have a valid ID will need to book tickets here.
All members of the force can claim free entry so long as they have a valid Blue Light Card. Please note all adults MUST be accompanied by a child.
Terms and Conditions
Promoter: Merlin Attractions Operations Limited (company number 06272935) with registered office at Link House, 25 West Street, Poole, Dorset BH15 1LD, trading as LEGOLAND Discovery Centre Birmingham for the purposes of this promotion.
Serving firefighters must report to admissions located at the main entrance of the LEGOLAND Discovery Centre Birmingham, between 3rd February and 1st March 2020 (inclusive) with proof of identity. Proof of identity includes: Blue Light Card ID/Firefighter staff ID.
Guests will be given one free adult ticket to enter LEGOLAND Discovery Centre Birmingham. Adults must be accompanied by an child. Adults and children will be required to hold a valid ticket for the same day as the firefighter entering with this offer or hold a valid Merlin or LEGOLAND Discovery Centre Annual Pass. This ticket can be purchased online in advance of the visit and can be a discounted ticket obtained through another promotion, but please note that the free ticket offer referred to in paragraph 2 above is allocated on a first come first served basis so entry on the same day as this adult ticket holder is not guaranteed.
All children aged 17 and under must be accompanied and supervised by an adult aged 18 and over at all times within the attraction.
Each serving firefighter is entitled to one ticket for a one day visit only and will be provided with this ticket by the staff at the "Ticket Office". The guest will have his/her hand stamped as proof of redemption of the offer. Tickets will only be valid for use only on the day of collection.
Tickets cannot be collected on behalf of another person.
Tickets cannot be booked online for this promotion.
Tickets are available on a first come first served basis.
Only one ticket per qualifying participant. Once a participant has redeemed their free ticket in accordance with this offer they will not be able to gain free entry using this offer on a subsequent occasion between 3rd February - 1st March 2020 (inclusive).
Offer can only be used as stipulated. Tickets are non-transferable, non-refundable and not for resale. Any purported transfer or sale of a free ticket will render that ticket void. There is no cash or other alternative available.
The same person cannot benefit from this offer in addition to another promotional offer, discount (including concessions), or a reward/loyalty programme or a 2 Day Pass.
Pre-purchased tickets cannot be refunded or exchanged for a free ticket.
Offer excludes LEGOLAND and Merlin Annual Pass holders who will already have access to the Resort using their Merlin or LEGOLAND Discovery Centre Annual Pass.
This offer excludes LEGOLAND Discovery Centre and other Merlin Group company employees.