The Brand-New 'Brick-Or-Treat Monster Party' Has Been Officially Launched At LEGOLAND® Discovery Centre Hong Kong
Thursday 28th September 2023
LEGOLAND® DISCOVERY CENTRE HONG KONG
NEWS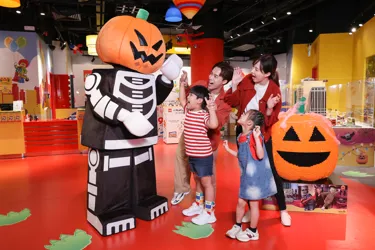 LEGO® Monsters are taking over this Halloween season at the LEGOLAND® Discovery Centre Hong Kong. They are here to host the enthralling 'Brick-or-Treat Monster Party' from today till October 31, 2023. LEGOLAND® Discovery Centre Hong Kong is also releasing a brand-new dancing party. So put on a spooky eye mask and have an exciting and unforgettable celebration with all your friends.
Check Point 1: The Brand-new Halloween Dancing Party
Step into a world of spooktacular fun at LEGOLAND® Discovery Centre Hong Kong this Halloween season! Get ready to groove and move at our thrilling Halloween Dancing Party, happening every weekend and on select dates. A special treat (available while stock lasts.) will be given to all impressive dancers. Join the party and seize the chance for an unforgettable Halloween experience!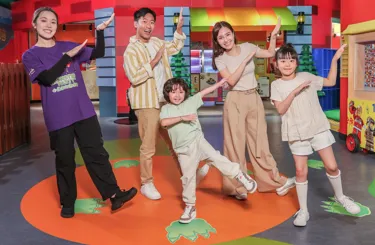 Check Point 2: 'The Great Monster Chase!' Halloween 4D Experience  
This Halloween, LEGOLAND® Discovery Centre Hong Kong presents the limited period 4D experience, 'The Great Monster Chase!', bringing a surprising and multi-sensory experience for its guests. The plot sees four superfan tweens who have scored tickets to the long-awaited monster party. Don't miss out on this surprising and unforgettable journey!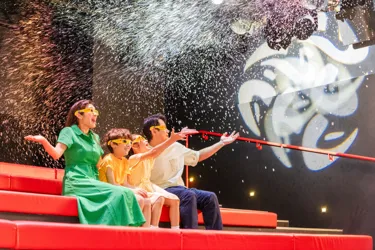 Check Point 3: 'Brick-or-Treat: Build A Cute Little LEGO® Pumpkin
Join our exciting activation and become LEGO® building masters as you create your own pumpkin with your family. Let your imagination soar as you build and bring your pumpkin creation to life using LEGO® bricks. It's a fun-filled activity that will bring you closer together and create lasting memories. Join us now and let the building fun begin!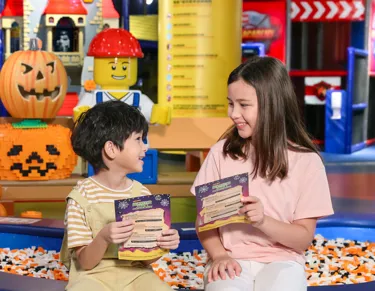 Check Point 4: Limited-Period Festive Creative Workshop
Your kids will be thrilled to join the creative workshop and learn the tricks to build the best LEGO® Monsters (Seats are available on a first-come, first-served basis.). They can challenge themselves with different LEGO® sets. Get ready for the workshop and expand your Monster family.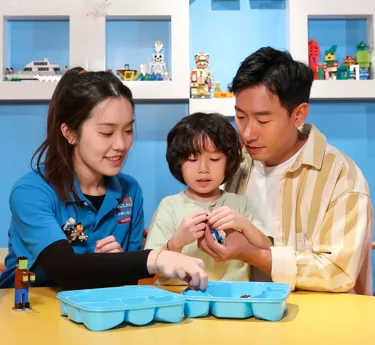 Check Point 5: Cute Photo Spots In The Pumpkin LEGO® Build
Get ready for an Instagram-worthy Halloween journey. We are bringing the feel of Halloween to life with stunning photo spots and incredible LEGO® pumpkins. Dress up in your wildest Halloween costumes and capture the cutest, most unforgettable moments. Join us for a picture-perfect experience!
Book Now