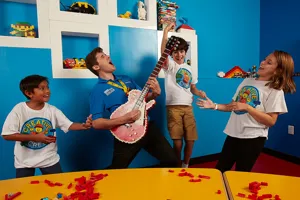 Creative Crew
Have you ever wanted to be part of a team that makes professional LEGO® models?
We are selecting members for our 2023-2024 Creative Crew at the LEGOLAND Discovery Centre Toronto!
The Creative Crew is a group of 10 children (Grades 1-4) who will work for a year alongside our Master Model Builder, Noel Straatsma, to help him create new models for the attraction as well as be junior representatives of LEGOLAND Discovery Centre Toronto on TV and social media. As members you will also receive Annual Passes for your entire family, a LEGO gift bag, and a t-shirt.
We will be selecting the Crew on Saturday, September 16th. Interested applicants should create a model with the theme of 'When I Grow Up' and bring it with you to our Retail store on the date above (see restrictions below). You will then be able to talk about your model to our guests as well as to Noel who will choose the winning entries that day. He will be looking for creativity, excitement, and your ability to speak to guests.
Please register using the form below so we can contact you about your specific display date and time (times based on the number of registrations). Deadline to register is August 18; NO exceptions. Master Model Builder, Noel, will contact applicants no later than August 31.
BUILD GUIDLINES:
Theme: "When I Grow Up"
You MUST use your own LEGO bricks. No bricks will be provided to you.
Your build can be no wider than a standard 48x48 grey LEGO baseplate (15"x15")
There are no restrictions on height.
*Reminder* You will build your model at home first and bring it into our store to display. If parts must be taken apart, you will have time to reassemble it on the day of.
REGISTRATION IS NOW CLOSED.