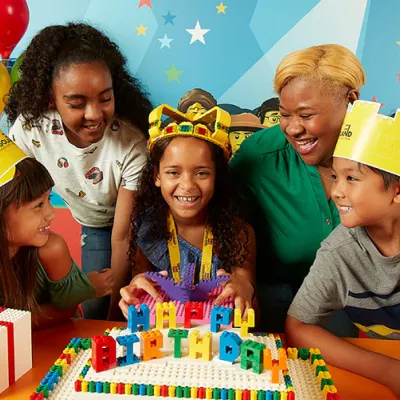 BRICKTASTIC BIRTHDAY BASH
Celebrate with a LEGO® Birthday party at LEGOLAND® Discovery Centre Toronto and have a fun-filled adventure to remember! The LEGO Birthday Party Package includes admission for your guests, food & beverages, LEGO take-home model for children and a private party room for up to 22 guests!
BIRTHDAY PARTIES INCLUDE: 
1 hour in a private LEGO themed party room
Party host to assist during room time
Pizza and beverages for all guests
Exclusive LEGO Model for each guest to take home
Activity lanyard and birthday pop badge for the birthday child
All day admissions at LEGOLAND Discovery Centre after time in party room
Everything above is included for just $40 +tax per person!
Please Note: We do not accept cash payments at this time.
Submit Booking Request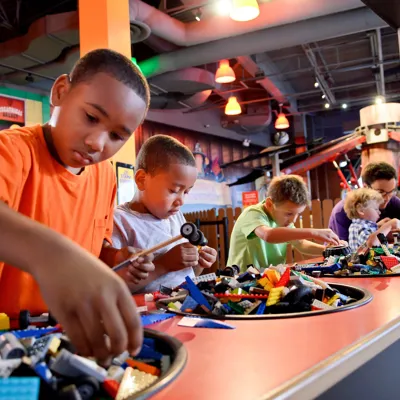 Epic Birthday Trip
Not interested in booking a party room? No problem!
We offer discounted rates for non-affiliated groups such as large friend and family groups with 10 or more children. 
Tickets from $19 per person (20% savings!)
Minimum number of children required to receive group pricing is 10
Available Monday - Friday, excluding select holidays
Prepaid reservations are required a minimum of 2 weeks in advance
For every 5 child tickets purchased, receive 1 free adult chaperone ticket
All guests must arrive and enter the attraction at the same time
Birthday pop badge & crown for the birthday child
Please Note: This package does not include the offerings listed in our Bricktastic Birthday Bash package. This is only your admission tickets to enter the attraction. No outside food, drinks, or party decor is permitted. We do not accept cash payments at this time.
Buy Tickets
Plan Your Party
POLICIES: 
Minimum number of children required to secure birthday party package is 10.
For every 5 paying children, 1 adult receives free admission.
Birthday Packages are available on Saturdays & Sundays: 12:00PM 1:30PM, 3:00PM, 4:30PM.

Party guests receive 2 slices of pizza (choice of Cheese or Pepperoni) and a beverage

. 

Party guests

may bring in their own Veggie/Fruit/Cheese Party Trays & Birthday Cake (waiver to be signed)

We recommend 2-3 hours for a full experience of the Centre, so be sure to schedule enough time for your guests to explore & enjoy.

 
How To Reserve: 
All

reservations must be made online through our Online Booking Portal, your check-in time will be automatically assigned at the time of booking

 

Payment must be made with a credit at the time of booking (Visa, MasterCard, American Express and Discover)

 

Cash payments are not accepted. All prices are subject to tax.

Additional tickets cannot be added to your original booking after your order is made. We suggest booking for the maximum

 

number

 of guests anticipated at your party.

 
What to bring:
Guest List: We ask all party parents to fill out a guest list to assist with our check-in process. (A guest list template can be found on page 6 of the Birthday Party Prep Guide . Please bring this with you on the day of the event. Make sure to include the names of all guests attending the party, as well as yourselves and the birthday child. 
Order Confirmation: You are required to bring the Order Confirmation, either printed or on your mobile device, with you on the day of your visit. 
Arrival & Check-in Process:
It is important that your entire group (or majority) arrive at your scheduled check-in time. Upon arrival, please check in at the Admissions desk.

You will be greeted by our Admission Host, who will assist you with your check-in

 and assign

 wristbands 

to

 all party guests

. 
You may play inside the attraction until your party time;

 the birthday host will meet you in the front of the private party room, which is located beside the Coffee Shop, at the start of your party time.

 

If you have any emergencies, are running late, or have questions, you can contact our Manager on Duty.. If you are running late, we will do our best to accommodate your party in the time remaining, but we cannot extend your time in the price room past the 1 hour allotted. Any guests from your party who arrive late will be escorted by a Team Member to the party room.

 
Once checked-in, guests may not exit and reenter the attraction

 

with the exception of

 the birthday child's parents/guardians

 
Party Food:
We do not allow outside food in the Centre, except for Veggie/Fruit/Cheese party trays which will only be consumed inside the party room. You will be required to sign a waiver form if you are bringing these party trays.

Guests with food included in admission will receive 2 slices of pizza + a beverage.

 

Birthday cake is available at an additional cost (options available are Vanilla or Chocolate)

 

Any additional food purchased from the Coffee Shop is at the guest's own expense and will not be considered complimentary to the party booking

 
Party Room & Playtime:
Inside the party room, you will find:

Party crowns available for each child and LEGO Models to take home
Birthday Party Host will serve pizza and beverages 

Birthday Party Host will only be available during the allotted time in the party room

 
Once the time in the party room has ended, the birthday child's parent/guardian may exit the attraction with any leftovers and birthday gifts

 and return to the attraction. 

All other guests may remain inside the Centre for as long as they'd like for free play.  
Child Pick-up:
Child pick-up takes place in front of the Centre, where you first arrived. Birthday parents generally communicate this to any parents who are just dropping their children off for the party.

 

Parents will not be permitted to enter the attraction to find children.  
DOWNLOADABLE INVITATIONS
Enjoy our free birthday party invitation templates once your party is booked!
We have LEGO themed online templates like LEGO Ninjago and LEGO Friends if you choose to send online invitations.