3 LEGOtastic Halloween Props We Love
Friday 19th October 2018
LEGOLAND Discovery Centre Toronto
Oct 2018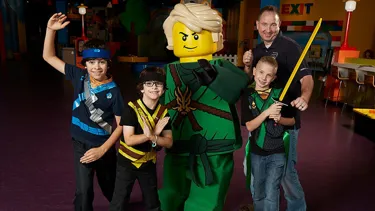 With Halloween right around the corner, are you still asking, "What should my child be for Halloween?" Relax! We're here to help inspire the most LEGOtastic Halloween costumes ever with ideas to bring LEGO® flare to any costume. Assuming that LEGO bricks fill your home, bricktacular props can be built easily and added to any costume.
Here are 3 totally awesome, simple props that can be added to any costume all made from LEGO bricks.
1. Hair Bow – Push back your locks with this LEGO hair bow! We can't think of a more perfect accessory.
2. Magical Wand – Wizards and witches can cast spooky spells with this wacky wand. WOA!
3. Sword – Add a super-awesome sword to a ninja costume! This. Is. Epic.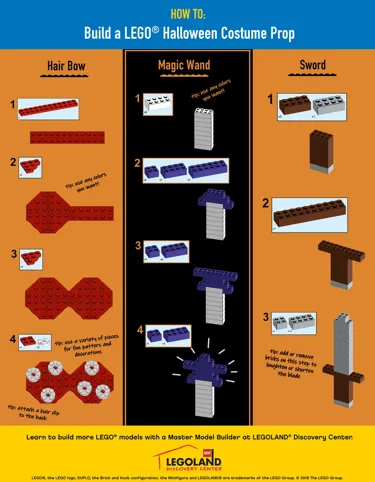 *Pro Tip: Extend the life of your LEGO prop by adding glue or strips of tape to help the prop stay together through all the Halloween activities!
Looking to buy a fully decked-out LEGO Halloween costume for your budding builder? Head over to our LEGO Retail Stores (right next to every LEGOLAND® Discovery Centre location) that are filled with costumes inspired by your favorite themes like LEGO NINJAGO® and LEGO City. We've even got classic must-have LEGO costumes like a policeman, construction worker, cowgirl and many more! Sooo many options! We are SO PUMPED UP!
Buy Now