LEGO®-Activities
Storytelling:
Make up a story about the LEGO® creations you made. Make a short movie of your creations, or think of an adventure where you and your own LEGO minifigure are in the spotlights!
Creative Challenges:
You can also challenge each other during a timed building session - give each other a certain number of LEGO bricks and a time limit of about 10-15 minutes, let's see what you can create during this limited time. You could also give this timed building session a fun theme such as sports, animals or cars.
Games:
Have fun, play a LEGO game together! Take turns creating an object, animal or character, the other person has to guess what the object is! During the building process, questions can be asked in order to find the right answer.
To create:
Why not encourage each other to share homemade LEGO creations? Make colorful buildings or crazy creations from LEGO bricks! Then share a photo on our Facebook page - we'd love to see what you created!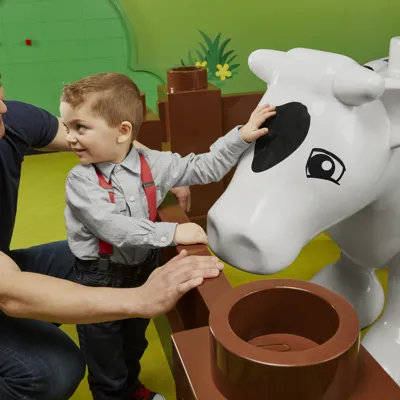 LEGO® DUPLO® - Activities
Tell a story:
You can use DUPLO® to bring a story to life - real or imaginary and long or short. It doesn't matter if the bricks are the right color, shape or size, DUPLO® can become anything you want: a rocket on a space mission, a lion in a jungle adventure, or a whale exploring the ocean!
Learning:
Little builders love to explore. Playing with DUPLO® helps your child learn about the world. You could talk about colors and shapes, or create DUPLO® animals - like a pig, sheep or horse - and have fun guessing their names and mimicking the sounds these animals make in real life.
Play:
You are your child's first playmate, why not play a game when you are building together? You could play hide and seek with your DUPLO® creations, or play a game where you count DUPLO® stones.