LEGO Education
We're offering lessons where we use LEGO Education to teach physics in a unique and creative way.
Meer info
Inspire children with the help of LEGO®!
Book your school trip at LEGOLAND® Discovery Centre Scheveningen and experience how educational LEGO® can be. We offer various interactive activities that match the experience of children aged 3 to 10 and many LEGO® Build & Play zones.
Do you want to get more out of your day? Visit SEA LIFE after your LEGO® visit for for only €3 extra.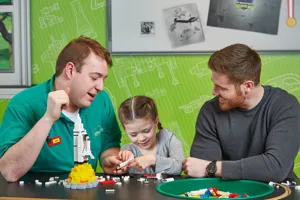 Creative
Every child expresses it's creativity differently. With LEGO® you can move in all directions, because all build zones in the attraction are full of unique Lego sets. For example, visit Heartlake City and create your own stories with ponies, guitars and colourful stones. Or build fabulous fantasy animals in the Ninjago zone and feast your eyes on the 4D cinema with exciting LEGO® movies.
Experience all the famous buildings of The Hague and Scheveningen in MINILAND® and watch the city change from day to night. Discover and discuss what happens and how a landscape can adapt. A great way to learn about the local geography and architecture while having fun.
Up for an extra challenge? Our Master Model Builder is happy to explain the best LEGO® techniques to everyone. During one of the cool workshops the children learn how to build with LEGO® step by step. Who want's to be our future Master Model Builder?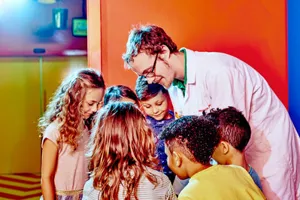 Physics
How can you learn about physics by playing? How about the Build & Shake Zone! That's physics in action: build a building as high as possible. Will your building stand if the ground starts to shake?
Looking for more speed? In the Build & Test zone, children can get acquainted with the physics of vehicles. Does a car go faster or slower with bigger wheels? Does the car drive faster if you make it heavier? Build, test and race your own creations to see what happens.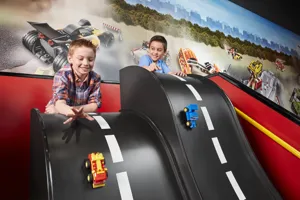 FUN and Energy
Of course your class is full of energy. Let them climb in the Pirate Island, test their agility skills in the Ninjago Training Zone or take a ride through a beautiful LEGO® city in the Imagination Express. One thing is certain: Everyone will leave full of inspiration from this fun and educational trip!
Organize your school trip at the LEGOLAND® Discovery Centre and you are assured of an educational, creative and energetic school trip. You book a school trip for the most affordable rate as from 15 people.
Two trips in one day
Make the most out of your day with a combination visit. After your visit to LEGOLAND® Discovery Centre, dive into the underwater world of SEA LIFE Scheveningen. Combine education with a unique learning environment for an unforgettable day.
Take a journey along the Dutch rivers to the deep oceans through 13 themed spaces. Discover sea creatures such as Humboldt penguins and Asian small-clawed otters. Experience fun interactive elements such as the Rockpool, interactive sandbox and an educational treasure hunt.
inspiring surroundings
Learn more about the animals and their meals during the feed presentations. Find out which marine animal is adapting to the changing environment and ecosystems. The session is given by one of our hosts. Please ask for the possibilities when booking.
Be aware:
School trips can be booked on weekdays outside the school holiday period for a minimum of 15 people