LEGO® Shop
Continue the awesomeness and take LEGO home from our LEGO Shop!
Bezoek de LEGOLAND® Discovery Centre Shop.
You don't need an entrance ticket to visit the LEGO® Shop.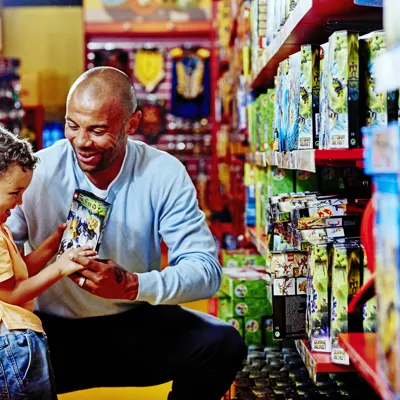 LEGO® Shop
YOU DON'T NEED A TICKET TO VISIT OUR STORE
Take a souvenir from your LEGO® adventure at LEGOLAND® Discovery Centre Scheveningen home or pop by any time – you don't need a LEGOLAND Discovery Centre ticket to visit our shop!
Our store is stuffed with awesomeness! We've got the latest LEGO products, including LEGO CITY, LEGO HARRY POTTER® and LEGO STAR WARS®. Meet the LEGO experts – our brick experts can use their knowledge to help you find the latest set or find the perfect gift – ideal for all your festive gifts. Look at all the exclusive LEGOLAND sets only available to purchase from select LEGOLAND stores and shops.
LEGOLAND Discovery Centre Annual Pass Members receive a 10 % discount on select items. Discount does not apply to already discounted products – full priced items only. LEGO VIP cards cannot be credited with points on purchase from the shop. However, a 5% discount will be issued to LEGO VIP members when the card is produced prior to purchase.
Unfortunately, we do not sell gift cards. We do not accept LEGO Gift Cards as a form of payment in our shop.
Opening Hours (might be different from attraction times)
• Monday – Friday 0:00 – 0:00
• Saturday 0:00 – 0:00
• Sunday 0:00 – 0:00 
The address of the store is: Strandweg 13 K (boulevard), 2586 JK The Hague, NL