2nd - 24th April 2022
Tickets from £21.95 (Included with LEGOLAND® Discovery Centre admission tickets)
LEGO NINJAGO is under threat and Master Wu needs more Ninjas than ever to help save LEGO NINJAGO from the evil forces that threaten its very existence. This April during Easter 2022 school holidays, LEGO NINJAGO fans are invited to level up their Ninja skills to master the six Ninja virtues - courage, balance, honesty, generosity, curiosity and wisdom.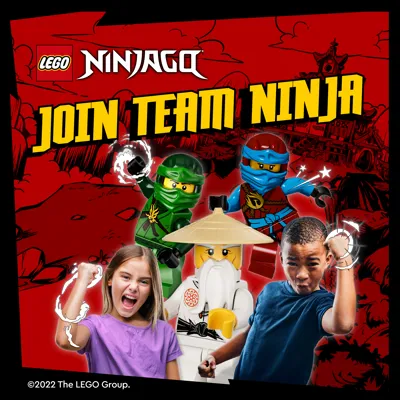 LEVEL UP YOUR NINJA SKILLS
Through a series of fun challenges, you will be taken on a journey to prove your Ninja skills and make it into Master Wu's elite team of Ninja:
Level Up COURAGE - Tackle our climbing wall and show how high you can go
Level Up BALANCE - Learn the Ninja dance at our Ninja moves pop up parties
Level Up HONESTY – Play the game and trade your cards, but be careful to play with integrity
Level Up GENEROSITY - Build a unique LEGO gift for Master Wu
Level Up CURIOSITY - Join the Ninja hunt and search MINILAND for our missing Ninjas
Level Up WISDOM - Show quick thinking and play our Ninja Bingo game
Not forgetting all of our usual LEGOtastic activities
Visit us for an engaging, enjoyable and rewarding experience that will leave children with a fantastic sense of accomplishment. They will earn a Ninja certificate and a virtual gift from Master Wu.
Plus, as part of the entry into the LEGO NINJAGO experience, guests can go on to enjoy everything else within the LEGOLAND Discovery Centre too including the rides, LEGO play zones and much more.
Event Date
2nd - 24th April 2022