The Great LEGO® Race VR Experience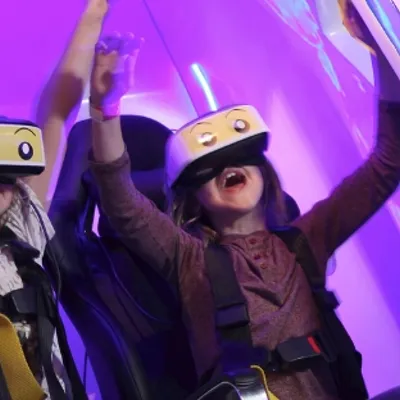 The UK's only LEGO® VR Experience
A VR experience where we invite you to literally buckle up and go for a spin inside the most incredible, exhilarating and fun LEGO® race ever created! Immerse yourselves in a brick-built world racing brick-built vehicles in the hopes of becoming the next Champion! So step right up and prepare for RACE DAY!
Racers will enter the virtual world and be the star of a rollicking race against several LEGO® MINIFIGURE competitors including a pirate, wizard, surfer and pharaoh.
With twists and turns throughout the course, the experience engages all senses by combining sight, sound and motion to allow guests to escape reality.
The 360-video let's guests see all around them as they venture across a rocky mountain, rolling river and even hot lava! Each experience can lead to a new discovery like realising you're racing against a LEGO-build rocket-powered windsurfing rig and an ornately canopied bed (called a "litter") carried by mummy servants. Who will win is the biggest question and the only way to find out is to step into The Great LEGO® Race VR Experience.
This is an upgrade 'Add-On' experience to your visit to LEGOLAND® Discovery Centre Manchester.
It costs £5 per person on top of your entry ticket.
Tickets cannot be purchased for the VR Experience alone - all VR ticket holders must also have admission tickets to the full attraction.
Tickets for the VR Experience can be purchased on arrival or in advance online when purchasing attraction entry tickets.
How to book the VR experience?
lease select your chosen admission option, you will then be given the option to add on the VR Experience during the booking process at the checkout.
Please ensure you select the same date for admission and VR, and that you allow at least 30 minutes from your entry time, and not longer than 3 hours from entry when picking your VR time slot.
Book Now
Anything I need to know?
Guests must be aged 4 or above
Shirts and shoes must be worn during the experience
Health and safety
Health, age, size and weight are important considerations, please click on the button below to see the full list
See full list