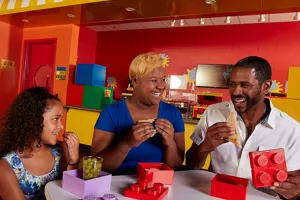 Take a break from building!
Builders of all ages can take a break in our LEGO®-themed Café.
Planning your day? Make sure to include time to take a break from building and wind down in the LEGOLAND® Discovery Centre Coffee Shop with a relaxing beverage and variety of snacks.
During your visit, LEGOLAND Discovery Centre Toronto is only accepting contactless payment methods and the use of debit/credit cards to combat the spread of COVID-19.
Don't forget, Annual Pass Members receive a 20% discount on all Coffee Shop purchases.
*Be advised that we are temporarily offering a more limited food menu.