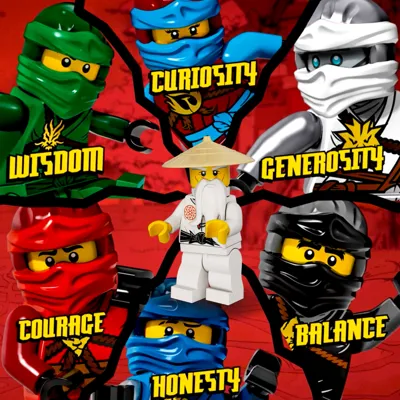 LEGO® NINJAGO® TRAINING CAMP
MASTER WU NEEDS YOU!!
Young Ninjas! Are you ready to accept challenges from the leaders of NINJAGO's team? Through a series of fun challenges, level up your Ninja skills to master the six Ninja virtues - COURAGE, BALANCE, HONESTY, GENEROSITY, CURIOSITY, and WISDOM. Reach and complete six challenges to receive a certificate and a pop badge (while stocks last).
NINJAGO® TEAM & THE NINJA VIRTUES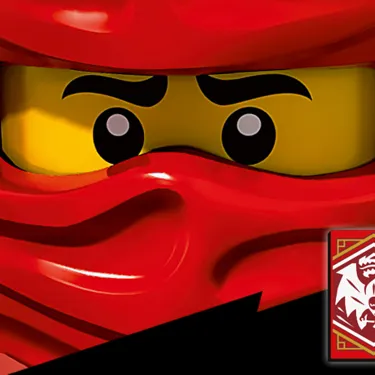 COURAGE I KAI
Come to the Earthquake Table and build a wall strong enough and high enough to protect LEGO® NINJAGO® with at least 10-storey. Test your wall and see if it can stand under a strong earthquake to…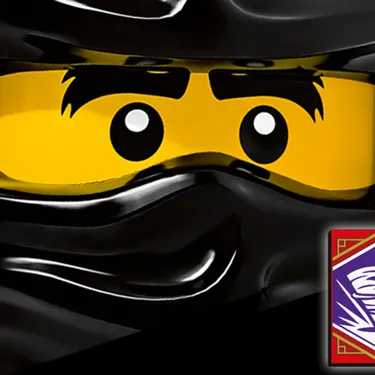 BALANCE I COLE
Use the giant scales in the Creative Workshop to prove to the Elemental Master of Earth - Cole that you have mastered the virtue of BALANCE. Add just the right amount of bricks to get the scales…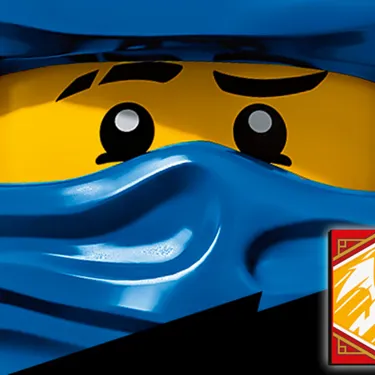 HONESTY I JAY
Make Jay, the Lightning Ninja, proud and write a pledge of honesty card at LEGO® Friends to take home as a reminder of this important virtue and of your visit to the Ninja training camp.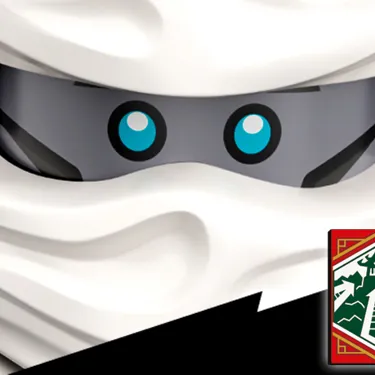 GENEROSITY I ZANE
Be like Zane, the first Nindroid ninja, and show your generous nature by building a small Ninja for Master Wu and share your work on social media platforms. Remember GENEROSITY is the virtue that…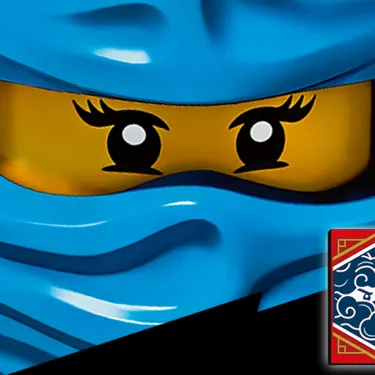 CURIOSITY I NYA
Join the Ninja hunt and search MINILAND for our missing Ninjas. Nya is testing your CURIOSITY on this fun scavenger hunt to find them. Take photos of their hidden spots now.
SUPERIOR YOUNG NINJAS CHECKLIST
Wanna join Master Wu's elite team of Ninja and become a superior young ninja? Remember to complete all the tasks and enforce the Ninja virtues in real life!

COURAGE at Earthquake Table


BALANCE at Creative Workshop    


HONESTY at LEGO® Friends


GENEROSITY   


CURIOSITY at Miniland
All Ninjas who complete all the challenges will receive a certificate and a pop badge (while stocks last).
MORE EXCITING ACTIVITIES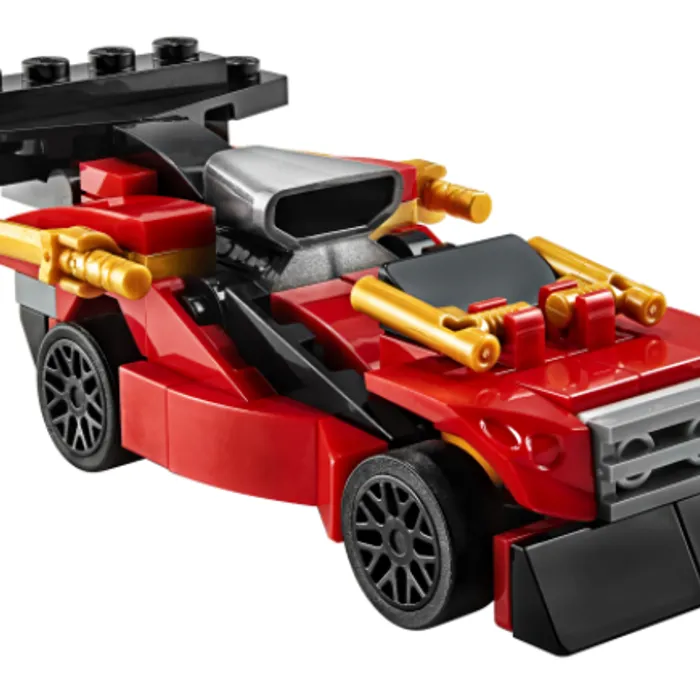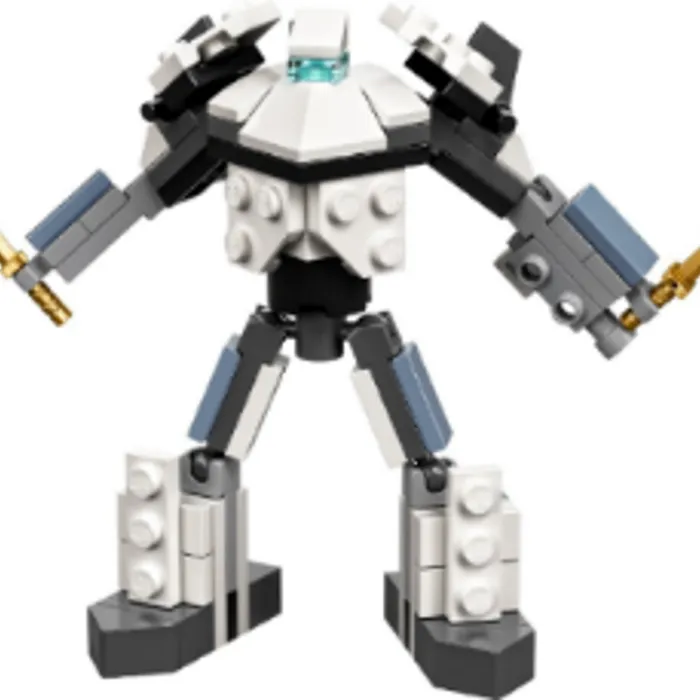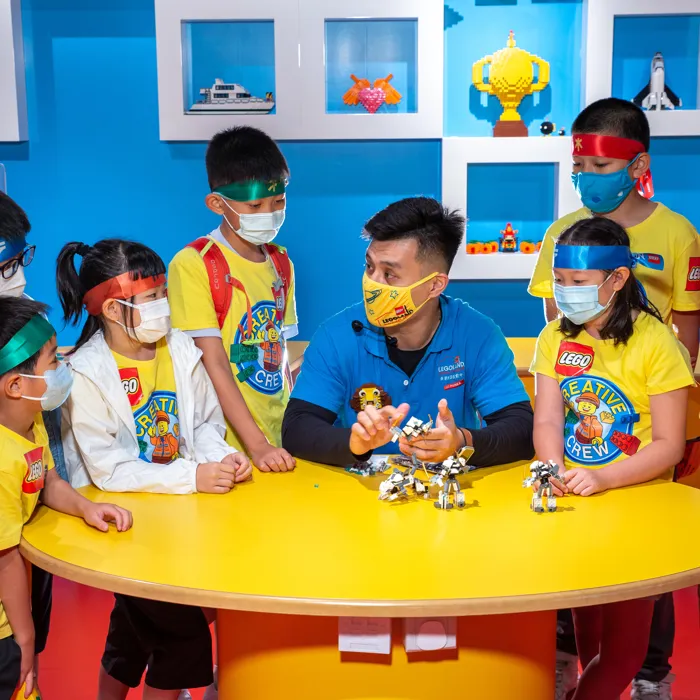 MEET YOUR LEGO® FRIENDS FOR GREATER NINJAGO® ADVENTURE
Join our creative workshops, children can get inspiration from Master Model Builder and make some cute LEGO® friends go on for an incredible NINJAGO® adventure.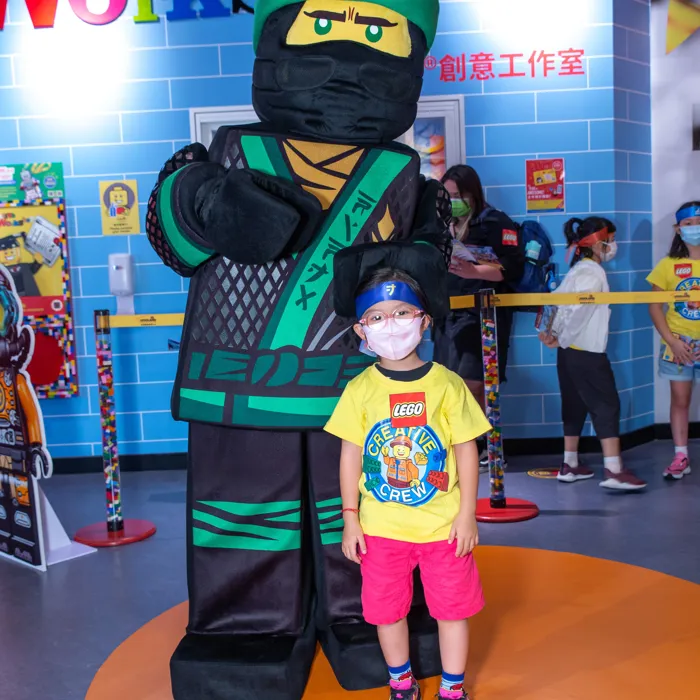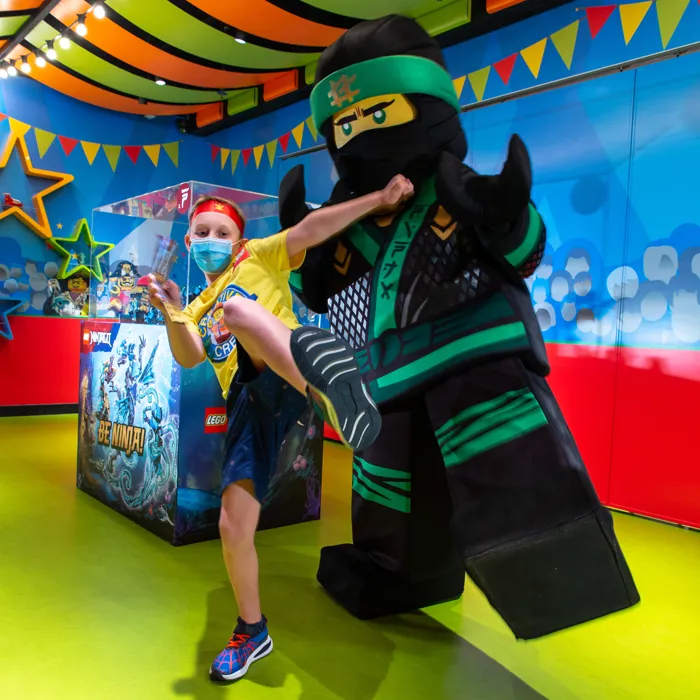 KEEP FOLLOW UP ON LEGOLAND® DISCOVERY CENTER
It is not easy to be a Ninja, the confident and brave Fire Ninja – Kai will join the event and support every Ninja starting from 12 July 2022.
Check on our official social media platforms and see when he will be around.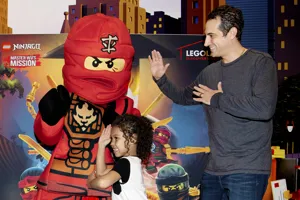 Be NINJA PASS
Get inspiration and create more fun memories with kids – purchase the Be NINJA Pass to enjoy the unlimited fun of LEGO®. The package includes two admission tickets, one VIP Digi Pass, one Ninja headband and two cups (small) of selected "Pick-a-Brick".
Saving LEGO® NINJAGO® from the evil forces through LEGO® NINJAGO® TRAINING CAMP!
*Offers are on first-come-first-served basis while stocks last. In case of dispute, LEGOLAND® Discovery Centre Hong Kong reserves the right for final decision.