Explore the history and fun facts of LEGO®
1
1954
1:87 單車模型 1:87 Bicycle
樂高®於70年代售賣壓模微型人仔 LEGO® sold re-molded people in the 70s
2
1974
樂高®家庭人仔套裝 200 LEGO® Family Set 200
樂高®家庭人仔套裝 200為樂高®第一組可以樂高®顆粒拼砌而成的人仔,當年更熱賣一時 LEGO® Family Set 200 is the first set of LEGO® building figures that made of LEGO® bricks. It has been a great success and sold very well
3
1977
經典樂高®人仔 Vintage LEGO® minifigure
無面人仔搭配非活動型四肢 Faceless minifigures with no mova1954ble arms and legs
4
1978
LEGO® Set 600
首個樂高®人仔盒裝 The First LEGO® Minifigure Set
5
1984
樂高® 6636 消防車 LEGO® 6636 Fire Truck
消防局套裝樂高®人仔 Minifigure from the fire station set
6
1985
第一代樂高® FABULAND 人仔 The first-generation LEGO® FABULAND minifigure
樂高® FABULAND 設有多款動物人仔 LEGO® FABULAND features animal-headed characters
7
1989
樂高®海盜船長 LEGO® Pirate Captain
首個擁有不同面部表情以及身體配件的人仔 The first minifigure with different facial expression and body parts
8
1990
樂高® 6034 黑君主的鬼魂 LEGO® 6034 Black Monarch's Ghost
首個夜光樂高®人仔 The First LEGO® minifigure that glows in dark
9
1993
樂高® 8714樂高® TECHNIC 團隊 LEGO® 8714 The LEGO® TECHNIC Team
樂高® TECHNIC人仔有別於一般樂高®人仔,擁有較大的體格以及更多的關節方便活動,可是玩家不能隨意組裝 LEGO® TECHNIC has used larger LEGO® TECHNIC figures with more degrees of motion. However, they cannot be easily disassembled
10
1994
樂高® Belville 5803 Iris LEGO® Belville 5803 Iris
第一代樂高® Belville 人仔 The first-generation LEGO® Belville figure
11

2002

樂高® 尤達大師人仔LEGO® Yoda minifigure

首個擁有短腿的樂高®人仔
The first minifigure with short legs

12

2003

LEGO® Sports 3440 NBA

首個擁有彈弓腳的LEGO® Sports 人仔
The first minifigure with spring legs from LEGO® Sports

13

2004

樂高® 妙麗人仔
LEGO® Hermione minifigure

樂高®哈利波特為第一個擁有不同膚色人仔的系列
LEGO® minifigures start to have various skin colour in LEGO® Harry Potter

14

2009

樂高®微型人仔
LEGO® mircofigure

樂高®微型人仔於樂高®Games登場
LEGO® mircofigures start to appear in LEGO® Games

15

2010

樂高® 8683人仔系列1 – 原始人
LEGO® 8683 minifigures series 1 - Caveman

第一套樂高®人仔系列中其中一款人仔
One of the minifigure in the first LEGO® Minifigures Series

16

2010

樂高®人仔獎杯
LEGO® minifigure trophy

樂高®人仔獎杯於2010年成為其中一個樂高®人仔的配件LEGO® minifigure trophy becomes one of the minifigure accessories in 2010

17

2016

樂高®人仔嬰兒
LEGO® minifigure baby

樂高®人仔嬰兒誕生
The first LEGO® minifigure baby

18

2018

樂高® 71021人仔系列18 – 警察
LEGO® 71021 minifigures series 18 -– police officer

樂高®人仔40週年限定版 – 1978年警察人仔復刻版LEGO® minifigure 40th anniversary limited edition – retro police officer (1978)
1

1932

木製玩具

Wooden toy 

樂高®的誕生

樂高®集團創辦人Ole Kirk開始生產以及售賣木製玩具

The birth of LEGO®

Ole Kirk, the founder of the LEGO® Group, started to manufacture and sell wooden toys

2

1953

第一代樂高®顆粒

The first-generation of LEGO® bricks

樂高®於1949年正式推出第一代"自動組裝顆粒"

1953年,顆粒正式易名為"樂高®顆粒"

The first "Automatic Binding Bricks" was introduced in 1949

In 1953, it was officially renamed "LEGO® Bricks"

3

1954

壓模微型樹、人仔以及汽車

Pre-molded trees, people and vehicles

樂高® System系列——樂高®首推"Town Plan No.1",宣揚交通安全

The LEGO System – "Town Plan No.1" Set was firstly introduced to emphasis the importance of traffic safety

4

1960s

LEGO® System

樂高®於1958年正式申請"樂高®顆粒"專利

In 1958, the LEGO® bricks have been patented.

5

1966

樂高® 113 火車軌

LEGO® 113 Train rail

 

首代電動樂高®火車套裝

The first LEGO® battery-powered LEGO® train sets

6

1969

樂高® 727 歐洲列車

LEGO® 727 Europe train

 

7

1979

LEGO® SCALA 310

樂高® SCALA系列面市,當中包括項鏈以及手帶,小朋友可以隨心所欲設計

LEGO® SCALA featured necklaces and bracelets that kids could build and customise

8

1985

LEGO® FABULAND

樂高® FABULAND 設有多款動物人仔以及容易拼砌的建築物與汽車

The animal-headed characters of LEGO® FABULAND sets had easy-to-construct buildings and vehicles

9

1993

LEGO® SYSTEM 6814

樂高® Space系列太空挖掘探險車

LEGO Space Ice Tunnelator

10

1998

LEGO® MINDSTORMS® RCX

LEGO® MINDSTORMS® 於1998年首度面世;RCX為首個程式控制器

The LEGO® MINDSTORMS® was launched in 1998 and RCX is the first generation of programmable brick

11

1999

LEGO® Star Wars 7131

其中一個最為人熟悉的樂高®系列——樂高®星球大戰於1999年初次亮相

One of most popular LEGO® themes – LEGO Star Wars was introduced in 1999

12

2004

LEGO® Sports 3440 NBA

2000年,樂高® Sports系列的首個盒裝產品為樂高® Soccer。樂高®於2003年推出樂高® NBA盒裝產品

In 2000 LEGO® Soccer was the first LEGO Sports theme to be released. LEGO NBA followed in 2003

13

2006

LEGO® MINDSTORMS®  NTX

第二代程式控制器

The second generation of programmable brick

14

2008

LEGO® Ideas 21003

樂高® Ideas於2008年正式推出,"回到未來"為此主題第三個盒裝產品

LEGO® Ideas was launched in 2008. "Back to the Future" is the third LEGO® set from this theme

15

2011

LEGO® NINJAGO® 2258

樂高®推出首個自家系列NINJAGO®

 LEGO® first home-grown theme NINJAGO®

16

2012

LEGO® Friends 3068

樂高®推出LEGO® Friends系列

The launch of LEGO® Friends

17

2013

LEGO® MINDSTORMS®  EV3

第三代程式控制器

The third generation of programmable brick

18

2014

LEGO® Movie 70818

樂高®推出LEGO® Movie系列

The launch of LEGO® Movies

19

2020

LEGO® DOTS

樂高®推出LEGO® DOTS系列

The launch of LEGO® DOTS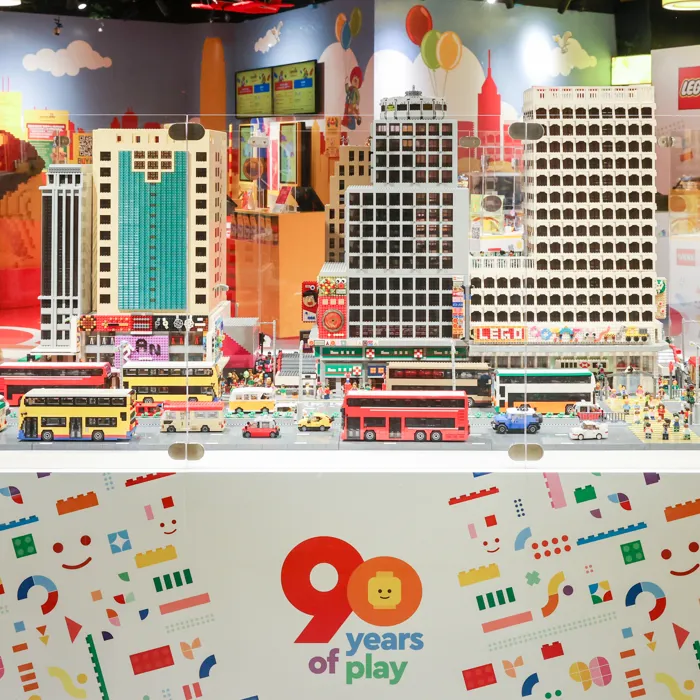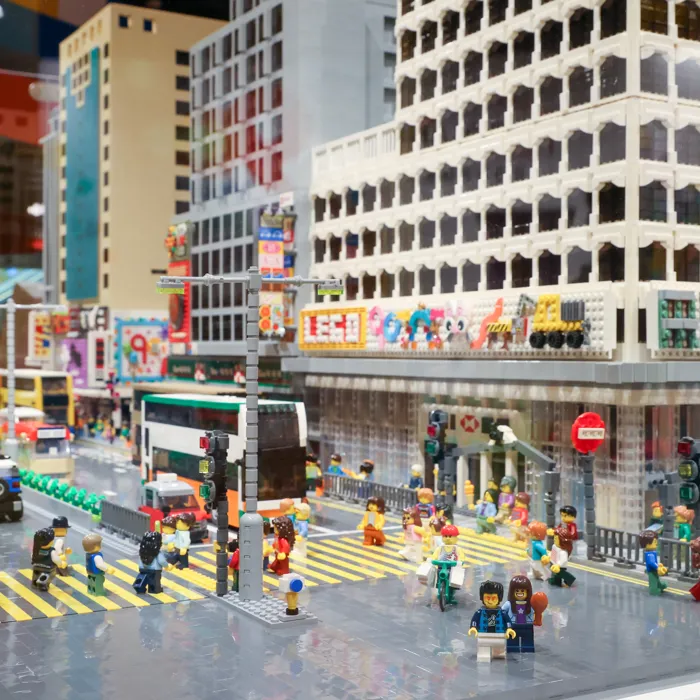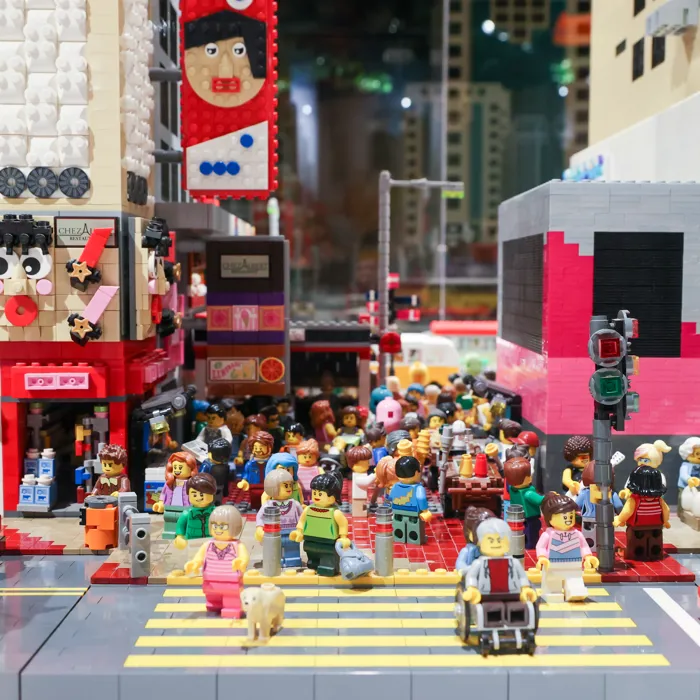 Massive LEGO® Build
Displaying one of the signature build from Andy Hung, the first LEGO® Certified Professional in Greater China Region  - Nathan Road
.
The showpiece with over 700,000 LEGO® bricks shows guests the busy and crowd street view and architectures from Argyle Street until Nathan Road, Sai Yeung Choi Street and Portland Street. Andy Hung has spent 8 months to bring this spectacular build alive and hopes to recreate the lively and buzzing atmosphere.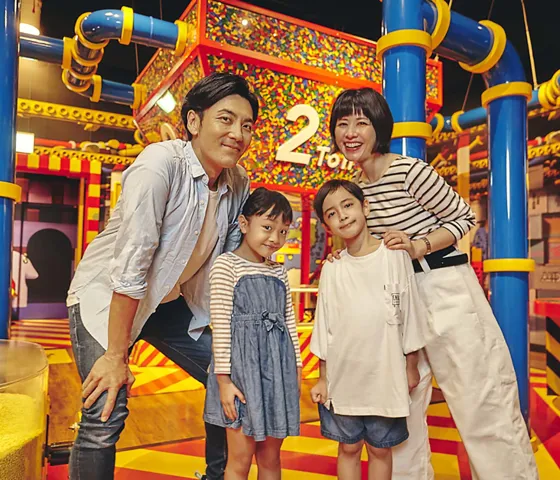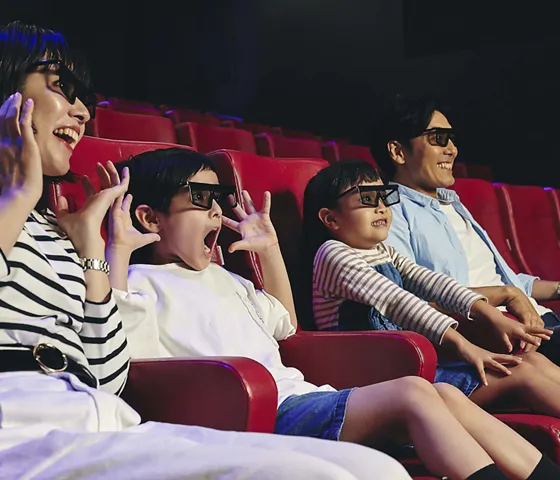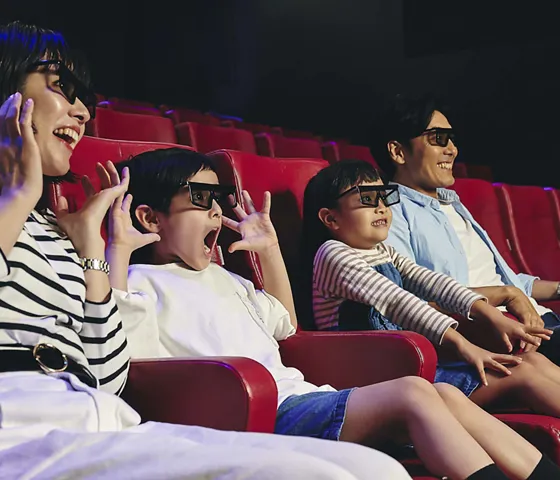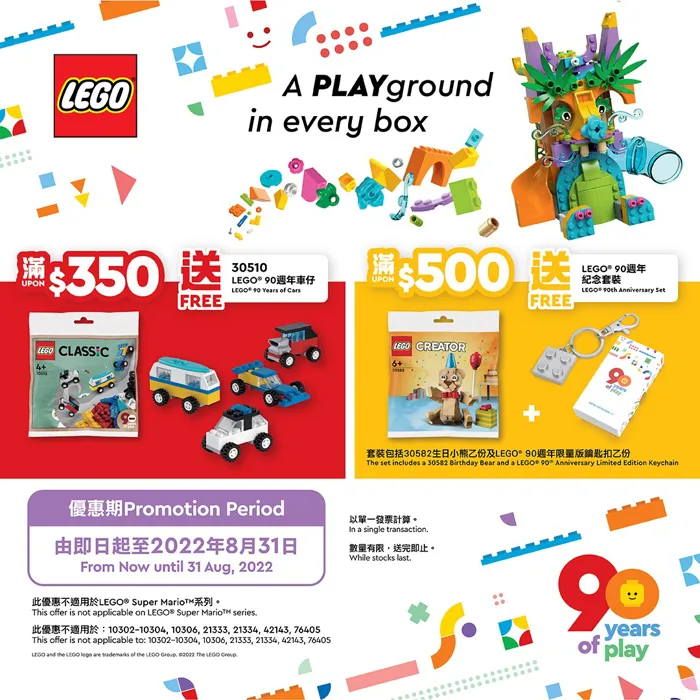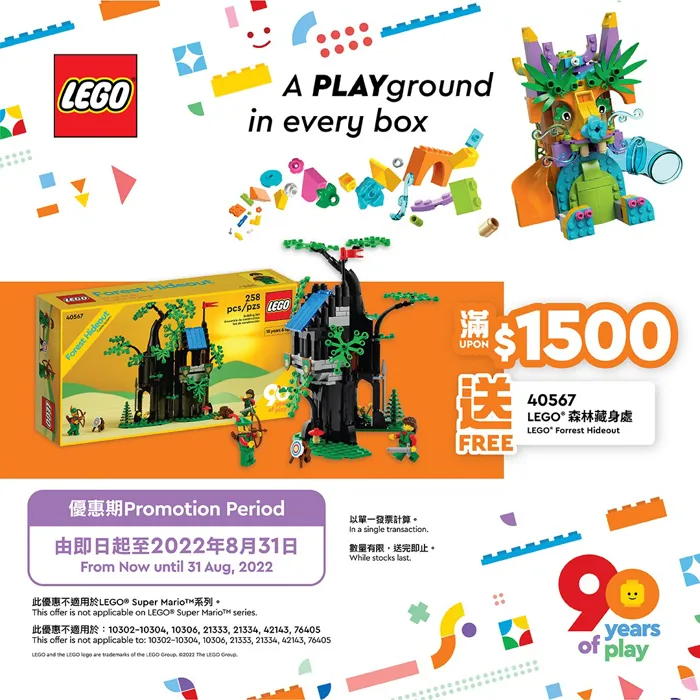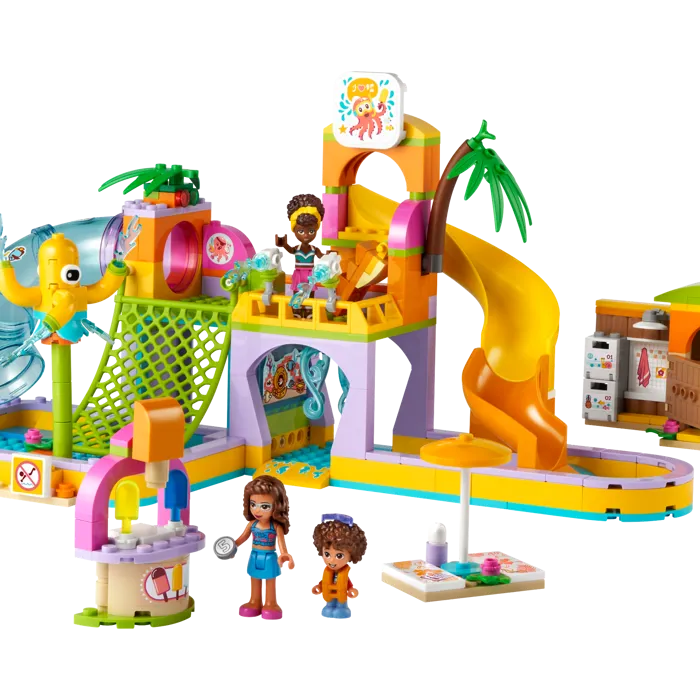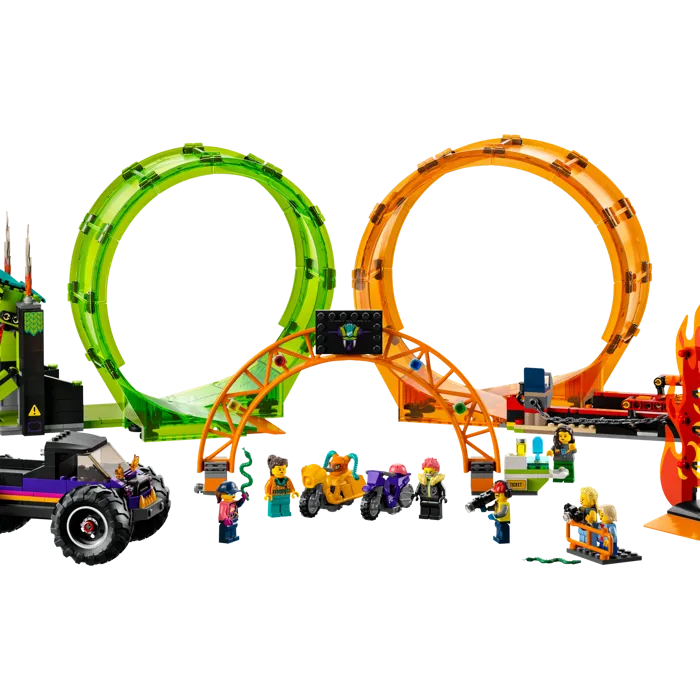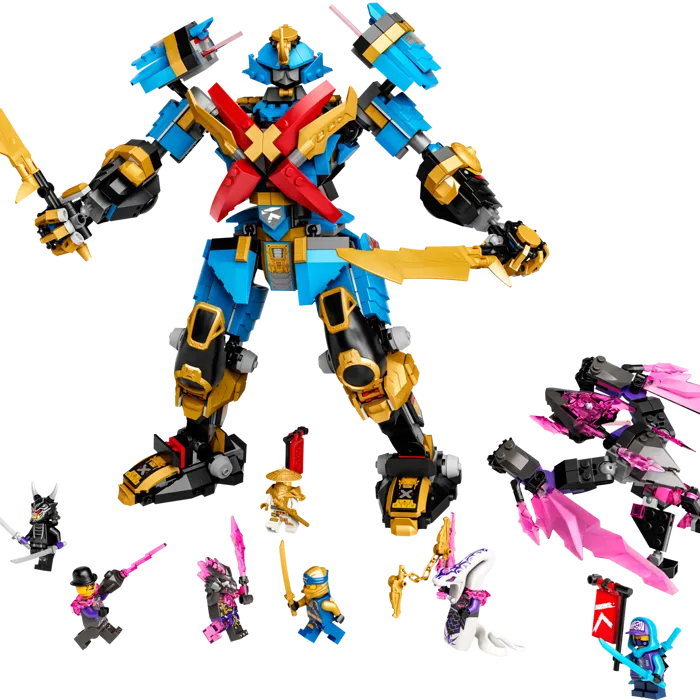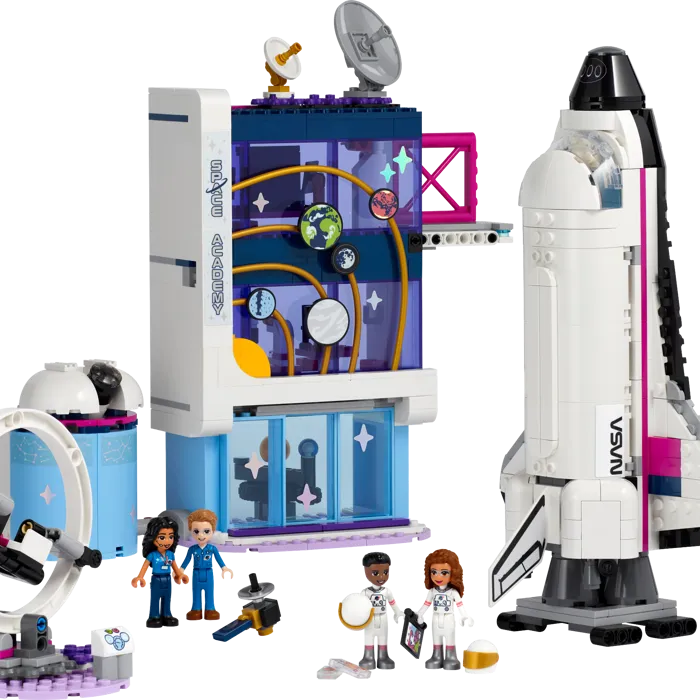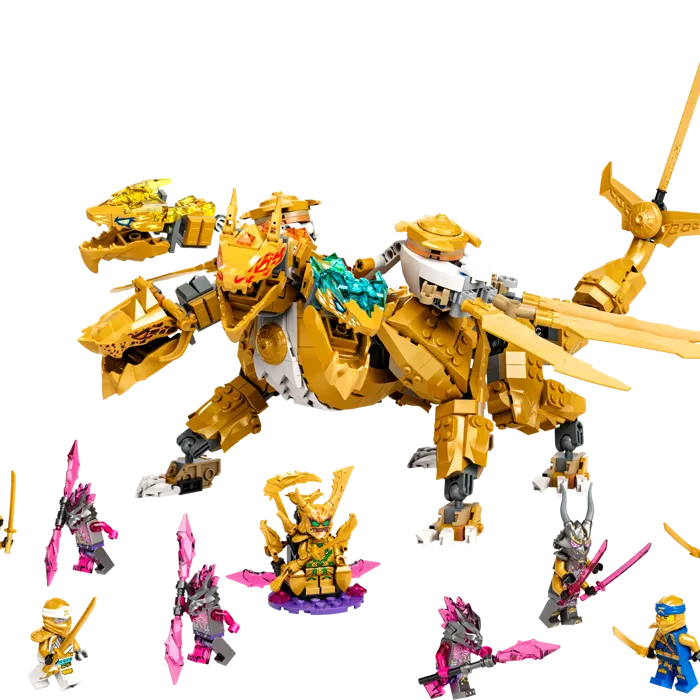 Gift Shop Special Offer
90th Anniversary Selected Box Set, 1 set 2 creative builds

41720 Water Park --> Party Animals

60339 Double Ring Stunt Field -->Flaming Monster Truck

71774 Lloyd's Gold Super Dragon --> Golden Scorpion

41713 Olivia's Space Academy --> Friendship Camera

71775 Nya's Samurai X MECH --> Mythical Beast of Ninja Village
From now until August 31, 2022, buy a designated amount to get a 90th anniversary limited gift*
Buy any LEGO® box set over HK$350 and get 30510 LEGO® 90 Years of Cars

Buy any LEGO® box set over HK$500 to get a free LEGO® 90th Anniversary Set with 30582 Birthday Bears & 90th Anniversary Limited Edition Keychain

Buy any two LEGO® box sets over HK$1,500 and get 40567 Forest Hideout
*Offers are on first-come-first-served basis while stocks last. In case of dispute, LEGOLAND® Discovery Centre Hong Kong reserves the right for final decision.