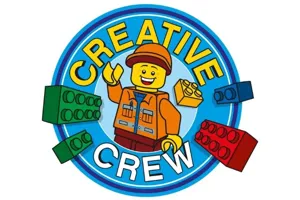 What is Creative Crew
The Creative Crew is a global campaign organised by LEGOLAND® Discovery Centres worldwide to engage young, aspiring LEGO® fans through creative learning and play.
The young finalists will help the Master Model Builder team in Hong Kong with various fun and educational activities throughout the year! 
Join now! You're wanted!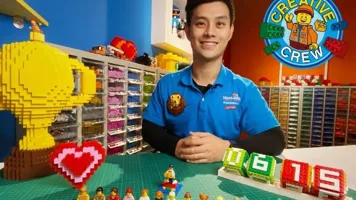 Calling all LEGO® fans ages 5 - 12!
Enter to win a spot on LEGOLAND® Discovery Centre Hong Kong's first-ever Creative Crew - a special team that will work side-by-side with LEGOLAND® Discovery Centre Hong Kong's Master Model Builder!
11 lucky winners will be selected to serve on the Creative Crew for one year. Each winner will receive: 
Free access for a year with a family Annual Pass (2 passes per winner)
Creative Crew T-shirt unique to year of membership
Help the Master Model Builder finish his/her plans for building new LEGO® models and provide input on other features to be added
*20 Finalists will be issued an e-participation certificate
How to Apply
Download and print the drawing sheet HERE. 
Select from the theme options on the drawing A4 sheet and draw a LEGO-TASTIC creation that the applicant would like to add to the LEGOLAND® Discovery Centre Hong Kong. (Only draw your creation on the downloaded drawing sheet will be fine; LEGO® built creation is not required for this session.)
Accompany the drawing with a 50-word paragraph describing the creative idea.
Fill in the submission form below, uploading a scan or a photo of the completed drawing sheet at the designated field. 
Upload your submission by 12:00 noon Jun 15, 2021.
Please Note: 
Submit the application only once. Only the first submission will be used if multiple submissions from a single applicant are found.
Judges will score all submissions on Creativity (40%), Theme (30%) and Design and Skills (30%).
Submission Form
The submission is closed, thank you for your support! 
The short list will be published on our official website and social media platforms on Jun 18; and the 20 shortlisted finalists for the Grand Finale on June 22, 2021, 14:00 - 17:00 will be notified via email on the same day. 
Terms & Conditions
Children aged 5 to 12 (as of May 18, 2021) are eligible to enter.
Entry into the Competition is limited to one entry per Eligible Entrant.
Failure to provide complete entry information will disqualify submission.
Submissions must be entered by a legal parent or guardian and adhere to the submission requirements.
It will be the responsibility of the Eligible Entrant and their parent or legal guardian to ensure that their Entry does not contain or reference trademarks, logos or designs owned by others. LEGOLAND® Discovery Centre Hong Kong will not be responsible for any infringement of intellectual property rights.
By entering a submission, you are granting LEGOLAND® Discovery Centre Hong Kong's permission to share the child's name, likeness, image, voice and/or social media posts content, includes photograph, film and/or recording of the same) in any media for an unlimited period without remuneration for the purpose of promoting this Competition (including any outcome), and promoting any products manufactured, distributed and/or supplied by LEGOLAND® Discovery Centre Hong Kong.
Entrants must be willing to participate in a photoshoot for the competition and events.
By entering the Competition, you agree to your personal information being used for the purposes described in these Official Rules and in accordance with our Privacy Policy, which can be found at HERE.
Winners will be asked to participate in various events and activities as junior ambassadors for LEGOLAND® Discovery Centre Hong Kong.
The prize is not transferable or exchangeable and cannot be taken as cash.
If this competition is interfered with in any way or is not capable of being conducted as reasonably anticipated due to any reason beyond the reasonable control of LEGOLAND® Discovery Centre Hong Kong, including but not limited to technical difficulties, unauthorised intervention or fraud, LEGOLAND® Discovery Centre Hong Kong reserves the right, in its sole discretion, to the fullest extent permitted by law: (a) to disqualify any entrant; or (b) subject to any written directions from a regulatory authority, to modify, suspend, terminate or cancel the promotion, as appropriate.
LEGOLAND® Discovery Centre Hong Kong reserves the right to amend the dates as needed.
All decisions are final and at the discretion of LEGOLAND® Discovery Centre Hong Kong.